Mothers wary of donated milk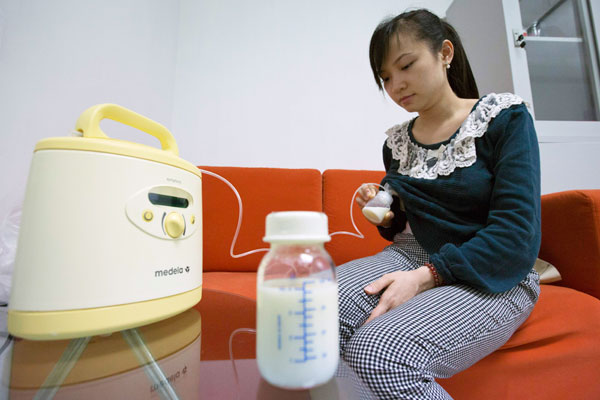 Volunteer Li Zhiai, 30, pumps breast milk to be donated at Guangzhou Women and Children's Medical Center. With China's first breast milk bank due to open at the center in June, about 80 mothers have donated milk since late March. Tyrone Siu / Reuters
New mum Cao Yue frowns every time she opens her fridge, as it's filled with bottles and plastic bags, all of which contain her breast milk.
The mother of a three-month-old baby boy, Cao, who lives in Nanjing's Jianye district, Jiangsu province, says she does not want to throw away the breast milk because it may help other babies.
"I'm blessed with having more than enough milk to feed my own baby, and I want to help other mums, to make them feel blessed too."
Cao, 28, has posted on the Internet that mothers who need breast milk may collect it from her for free, but few people have taken her up on her offer so far.
"People may have concerns about the safety of other people's breast milk," she says.
Cao is not the only warmhearted woman who wants to help others, as there are other new mothers making similar offers online.
But although there is a huge demand for breast milk in China since domestic dairy brands lost the public's trust after at least six infants died and 300,000 fell sick after consuming melamine-tainted milk powder in 2008, the majority of women worry about the safety of another woman's milk.
According to a survey of hundreds of women conducted by the Guangzhou Women and Children's Medical Center, only 18 percent of new parents will accept donated breast milk for their infants.
It's reasonable that some mothers choose safety rather than nutrition, as some diseases, such as the HIV virus and some skin diseases, may be transmitted by breast milk, said Chang Chun, a professor at the school of public health under Peking University.
"The safety of donated breast milk needs to be ascertained and emphasized," she said.
The first breast milk bank on the Chinese mainland was launched in March at the Guangzhou Women and Children's Medical Center and Liu Xihong, one of the founders of the milk bank, said all the donors must provide physical examination results before donating their breast milk, which is disinfected and frozen immediately. Nurses also label every bottle with information such as the donor's name, the time of the donation and the amount.