Doctor puts his life in danger to save others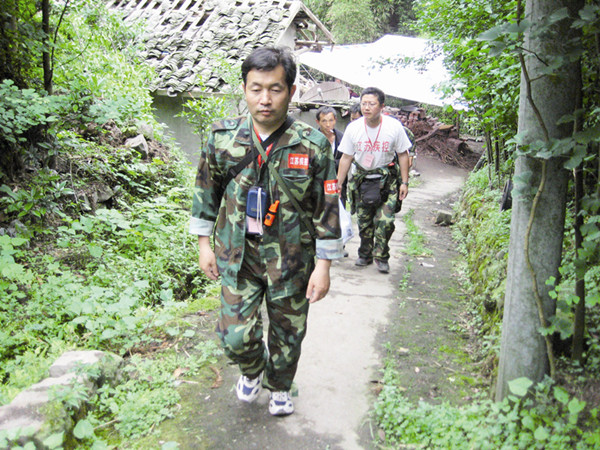 Shen Jin and his colleagues volunteered in the earthquake-hit Sichuan province in 2008. Provided to China Daily
Shen Jin has had many opportunities to work in modern cities and lead a comfortable life. But unlike many people, he has chosen a much harder road.
Shen, 58, is the deputy director of the Center for Disease Control and Prevention in Suqian, Jiangsu province. His job requires him to face many dangerous diseases, including malaria, SARS, and H7N9 bird flu.
But Shen is stoic about the risks.
"In your life you have to do something meaningful. It's your responsibility," he says.
Shen became interested in disease control and prevention in June 1973. He was 18 years old and working in an orchard in a rural area after having graduated from high school.

"It was an autumn day. It was very hot. Some farmers were working in the field and sweat soaked their shirts. But in some shabby houses along the orchard, I saw farmers covered with quilts, shivering uncontrollably," Shen says.
"I felt so bad seeing them in pain. I asked to work with local medical workers to distribute medicine to farmers door to door, and I wouldn't leave until I saw them swallow the pills."
Aware of the medical conditions in rural areas in Suqian, Shen applied to Nanjing Medical College to become a doctor. Three years later, he refused several teaching posts in big cities and returned to his hometown, a less developed city in the province.
Despite being well prepared, the working conditions in some rural areas in the 1970s proved challenging.
Farmers had relatively limited knowledge about disease control and prevention, and they often refused take injections. In some villages there were even rumors that children would become infertile if they received vaccinations.
Many farmers hid their children in haystacks or buckets when Shen visited to persuade them to have the children vaccinated.
Filarial infection was a common disease at that time. Shen knew the disease could be easily diagnosed from a blood sample, but obtaining such samples was difficult. Shen had to stand and wait for hours before some farmers opened their front door, even in the freezing winter.
However, sometimes no matter how long he stood, and how sincere he was, some doors remained closed. Villagers had heard rumors that the blood taken from their bodies would be sold and not used for diagnosis.
Malaria was another disease faced by local farmers. About 50 percent of the rural population was diagnosed with the disease in Suqian in the early 1980s. To collect information and send medicine to farmers, Shen visited all the 31 counties in Suqian by bicycle.
Because of the poor transportation, each trip to a remote county took more than a week. He secured the medicine to the back seat of the bicycle, hung two baskets on the handlebars, one holding clothes and one with food, and started his solitary journey.
He often ate cold pancakes and drank cold water by the roadside. Sometimes heavy rains came unexpectedly. "It was hard, especially in winter time," Shen says.
The years of eating cold food on the roadside resulted in Shen contracting a stomach disease, but he says he does not regret his actions.
In the mid-1980s, the disease incidence of malaria in Suqian declined from 50 percent to 5 percent. Shen says that figure is "the best reward" for him and his 20-odd colleagues, who were responsible for disease control for Suqian's 800,000 residents.
When SARS, one of the most serious public health crises, hit China in the spring of 2003, Shen voluntarily applied to diagnose the first suspected case in Suqian. He took the blood and the excrement samples from the person by himself. Many others refused to get close to the patient who was likely highly contagious.
"Like other people, I value my life and I cherish my family, but some people in our society have to make sacrifices," says Shen of the epidemic, during which one third of the deceased were medical workers.
Shen says that as a husband and father, he felt sorry for his family, but says they have demonstrated great understanding of his work.
"At first I complained like regular wives, but gradually I convinced myself that he is doing something meaningful for himself and for other people," says He Henglin, Shen's wife. "I'll always be supportive as long as he works as a medical worker."
Shen Ning, his daughter, works as a teacher in a local college. She says that in 2009, when the H1N1 bird flu broke out, her father stayed at the college measuring the body temperature of every student for almost a month.
"But he never visited me during that month," says Shen Ning. "I knew that was required by his work."
Shen, the father, says: "I'm just a regular person, and I will continue to do what I should do."