Obesity becomes a growing health problem in Shanghai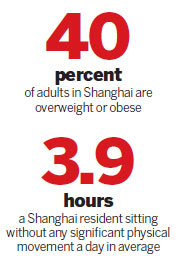 Shanghai is acting to head off an "obesity epidemic" as health authorities warn of a rising tide of diabetes and weight-related diseases.
Roughly 40 percent of adults in Shanghai are overweight or obese, and one-fourth of residents do not exercise enough, according to a report by the Shanghai Municipal Health Bureau, released on Monday.
"The rise in obesity among children and adults is very disturbing," said Li Guangyao, deputy director of the Shanghai Health Promotion Committee. "It will lead to many health problems and should be given attention."
In a recent academic paper, sports scientist Colin Boreham found that over the past 20 years, the number of obese Chinese men has grown from 3 percent to 11 percent, while the number of obese women has increased from 5 percent to 10 percent.
Abdominal obesity problems are particularly prominent, wrote Boreham, director of University College Dublin's Institute for Sport and Health.
The ratio of men with abdominal obesity, meaning with a waist circumference of 90 cm or more, increased from 8 percent to 28 percent, while women with abdominal obesity, a waist circumference of 80 cm or more, increased from 28 percent to 46 percent.
The findings of another survey, released at the end of 2011 by Shanghai health authorities, showed that the average weight of male residents has increased by 2.9 kg when compared with 2000. Over that same period, the average waistline of men has increased 2.3 cm.
"More health campaigns and public education activities are urgently needed to help residents better understand the harm being overweight or obese can do, and prompt them to keep moving and take measures on weight control," said Chen Wenhe, a professor at Shanghai University of Sport.
Like many people, Zhao Bin, a 25-year-old IT worker, spends a lot of his time either sitting in an office or curled up on the sofa at home.
"I know I'm putting on weight, but I barely have any energy to move after a whole day working," he said. "I just want to throw myself into bed after dinner."
Zhao weighs 90 kg, and is among a large group of people who are not inclined toward physical activities.
A citywide survey conducted this year by the Shanghai Health Promotion Committee, which surveyed about 8,600 residents aged 18 or over, found that adults spend a lot of time on sedentary pursuits.
An adult spends an average of 3.9 hours a day sitting without any significant physical movement, the poll discovered. Compared with a year earlier, nearly 70 percent of residents also said they had reduced the time spent on daily physical exercises.
The city is encouraging residents to live healthier lifestyles and take positive steps to control their weight.
In addition to activities in communities, the committee also organizes a contest to encourage residents to shed weight. Residents who successfully lose 3 kg can win prizes worth up to 2,000 yuan ($321).
"Various campaigns and activities are aimed at helping residents have a healthier lifestyle, which can effectively reduce the chances of suffering various chronic diseases," said Li from the committee.
wanghongyi@chinadaily.com.cn