Wealth and health key for Chinese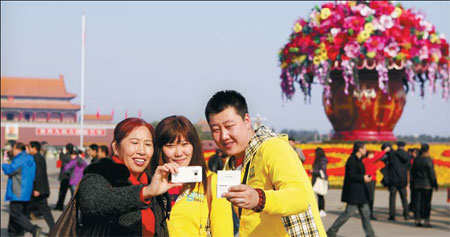 A family of three on Tuesday takes a photo at Beijing's Tian'anmen Square, which has been decorated with flowers for the upcoming 18th National Congress of the Communist Party of China. Wang Jing / China Daily
Chinese people deem income the most important factor that determines their happiness and confidence about the future, a survey has found.
China Youth Daily polled more than 11,400 people nationwide and found 53 percent are confident about their lives over the next 10 years and they expect more income to help sustain such confidence.
More than 70 percent of people surveyed were between 23 and 42 years old, 30 percent earn less than 3,000 yuan ($480) a month and nearly 40 percent earn 3,000 to 10,000 yuan a month.
Nearly 57 percent of respondents said they are confident about China's development over the next decade and believe the widening gap between rich and poor is the biggest problem that may affect the country's development, according to the survey.
Another poll of more than 1,000 people by Insight China, a State-run magazine that reports on the welfare of Chinese people, found that 60.6 percent said they feel happy. The figure was 0.4 percentage points higher than last year.
Income is the biggest factor that affects Chinese people's happiness, followed by health, marriage, family, housing and social security, the survey found.
Li Juan, an expert at Institute of Psychology at the Chinese Academy of Sciences, said different groups of people have different priorities when it comes to the factors that affect their happiness. Health is the most important factor for senior citizens, while for working-age people income is the most important because they have financial pressures.
"I think marriage and health are the most important things, although income can really affect my happiness because it has a direct impact on health and marriage," said Yuan Jingyi, who works at a construction design company in Beijing.
Yuan, 31, had a daughter a year ago and earns around 8,000 yuan a month.
"Of course I expect a higher income because I want to provide better conditions for the growth of my baby and the family," she said.
Xia Xueluan, a sociologist with Peking University, said the findings of both surveys have shown people's urgent longing for higher income. In China the wage level is still comparatively low, he said.
People's happiness is based on sufficient materials and although Chinese people's income has been rising in recent years, it grows slower than the government's fiscal revenue, and has been offset by rising consumer prices, he said.
A recent report released by the labor and wage institute affiliated with the Ministry of Human Resources and Social Security showed that fiscal revenue grew by 24.8 percent in 2011 from the previous year, nearly twice the year-on-year increase rate of urban residents' income in the same year.
Yin Xingmin, an economist with Fudan University in Shanghai, said the primary tasks to close the widening income gap are promoting labor productivity and regulating the income of employees in monopoly industries.
The long-anticipated national income distribution reform plan is expected to be released by the end of the year.
chenxin1@chinadaily.com.cn