Thais' painful quest for beauty at bargain prices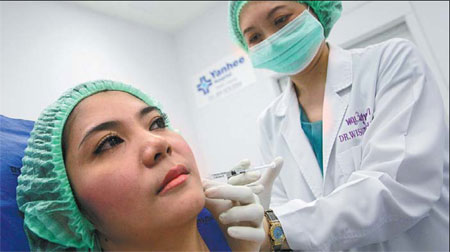 A 32-year-old Thai woman, Nisakron Boonpun, gets a Botox injection at Bangkok's Yanhee Hospital. Though many legal cosmetic procedures are available, Bangkok is also swarming with illegal, back-alley beauticians. Sakchai Lalit / Associated Press
Her dream was to look less Thai and more like Jennifer Lopez, so the 25-year-old street food vendor went to the Internet and typed in "cheap Botox".
That was the start of a five-year makeover for Ratphila Chairungkit that included two nose jobs, two eye-widening surgeries, chin augmentation, lip trimming, skin whitening and dozens of Botox-type injections.
The goal had been to redesign her entire face, but things went horribly wrong. "I started to look like a witch," she recalled. Her upper eyelids sagged and her lower lids erupted in tapioca-like bumps. Her chin drooped and her nose swelled.
After costly and painful corrective surgeries, she is now content with her appearance, though it bears no resemblance to her US idol.
Thailand is swarming with cheap but risky cosmetic clinics, thanks to two powerful forces: Their prices are designed to attract the poor, and Thai society defines beauty as fair and delicate. It looks down on the ethnic facial features associated with the lower classes - the wide noses and dark skin most of the country possess.
"I used to look like a factory worker," said Ratphila, now 30, cringing at an old snapshot of her smiling former self. "Now, when I look in the mirror, I'm happy. With a better face, you have better chances in life."
Her quest for beauty at bargain prices was a painful mistake. A pseudo-beautician injected commercial-grade silicone into her cheeks, chin and under her eyes. It all needed to be surgically scraped out. She spent 500,000 baht ($16,000) over five years, a huge sum by her humble standards, mostly to fix his handiwork.
"I'm lucky I didn't die," she said, trying to smile through her cosmetically corrected face.
Far from having regrets, she says, her ordeal has turned into a business opportunity and she plans to open her own cosmetic clinic later this month. "Now, I've become a beauty guru. Everyone comes to me for advice," she said.
Not all of Thailand's beauty victims live to tell. The death this month of a 33-year-old aspiring model from a botched collagen injection has focused nationwide attention on the illegal beauty industry and intensified a government crackdown.
Nearly 40 illegal beauticians have been arrested in Bangkok, the capital, in the past two months, but authorities believe nearly 200 are still operating. Advertising in plain sight on the Internet, they're commonly known as "bag doctors" because many make house calls or meet customers in vans to administer cheap injections straight from their bags.
Last week, the health ministry and police declared a small victory after arresting someone they called "the most dangerous" operator to date: A 37-year-old former beautician's assistant with no medical training who had set up an all-purpose clinic in her home.
Inside the woman's pale yellow town house in a working-class Bangkok neighborhood, authorities found box-loads of counterfeit Botox, cheap facial fillers, intravenous skin-whitening chemicals and a variety of banned products known to have dangerous side effects. The arsenal of potentially toxic beauty products underlined the lengths that women, and some men, take to improve their looks.
"This is terrifying," said Phasit Sakdanarong, chief adviser to the public health minister, who joined the raid and has since advised the government to expand the crackdown nationwide. "This woman was not a doctor. This clinic has no license, and the products she was using are not FDA-approved."
Phasit said: "We are facing a very, very serious problem. When people go to illegal clinics like this, it is very easy to get an infection - and sometimes it is easy to die."
The clinic operator, Jiratha Saraban, told authorities through tears that she had ordered her products cheaply off the Internet and catered to low-paid office workers and college students.
"I wanted to help people who can't afford to do these procedures at expensive clinics," Jiratha said. She faces up to 11 years in prison.
She offered standard black market rates: $30 Botox shots and $50 filler injections, a method for elevating the nose bridge to look "less Asian".
The Associated Press