Society didn't accept him but is changing with her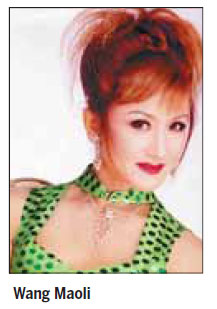 Wang Maoli says she doesn't regret the sex reassignment surgery she underwent 21 years ago.
But that doesn't mean life has been easy, she says.
She has spent the past two decades in the media spotlight as the first person known to have undergone the surgery in Chongqing municipality and the second in the country. She's also perhaps the country's first person to change the gender on her ID card.
"I might not have survived if I hadn't done the surgery," she says.
While hardships have persisted, the Sichuan Opera performer says the procedure lifted her life's greatest burden.
"I'm living a pure and moral life," she says. "My status is legally recognized by authorities. I make people happy with my shows. I don't see why I should be ashamed."
She had been haunted by gender issues since she was a little boy, she says.
She was good-looking. Her father even dressed her as a girl, which she believes influenced her gender identity.
"I often got love letters from girls but just didn't feel anything for them," she recalls.
Wang, who's in her 60s but refuses to reveal her exact age, decided to become a woman in 1958, when she was performing for a local opera troupe.
Wang asked numerous hospitals for help and even requested assistance from a former Kuomingtang medical officer, who lived in a village in Sichuan province. But the officer said it would be illegal for him to make Wang "disabled".
She used every performance opportunity in Shanghai to consult with hospitals.
The hospitals told her she would need a permit from local police, her family and the local mental health facility.
Wang sent a request to the police. The officers replied: "You're insane." Wang spent a year in prison during the "cultural revolution" (1966-76), when authorities intercepted a letter she wrote to a hospital in Taiwan province asking if she could do the surgery there.
But Wang's persistence paid off in 1991, when a hospital in Chongqing accepted her request.
Wang says society has become more accepting of transgender people over the past 21 years she has lived as one.
"It's quite different now," she says. "People now view transgender people as more commonplace."
Wang voluntarily left the Sichuan Opera troupe with which she had performed for more than 40 years in 1989, when the troupe cut employees to make ends meet.
Wang now dances independently.
But she has turned down most performance requests for the past two years, because she has been looking after her mother, who is paralyzed by cerebral thrombosis. "Mom's the one who has been by my side during the difficult times," she says.
But she still rehearses every day.
"I've been in this trade for more than five decades. I won't give up my artistic pursuits."
However, she has given up on her search for love.
"It's understandable nobody wants to be my partner," she says.
"There are so many pretty girls and even pop stars who are single. Why would anyone choose a transgender person like me? You can't imagine how hard it is for a transgender person to find true love, let alone marriage."
She has been besieged with requests for advice after her surgery, she says.
But she tells others to be "very cautious" in making the decision to go through with the surgery.
"You must be ready to be single afterward," she tells them. "If you're gay, you can still find love. But after the surgery, chances are that nobody will love you."
Wang also advises parents to pay attention to children's gender orientation.
"A girl should be dressed like a girl and a boy like a boy," she believes.
"Don't buy girls toy machine guns."
She also tells parents that school performance isn't all that matters.
"Parents must also pay attention to how their children feel," she says.
xuwei@chinadaily.com.cn