In transition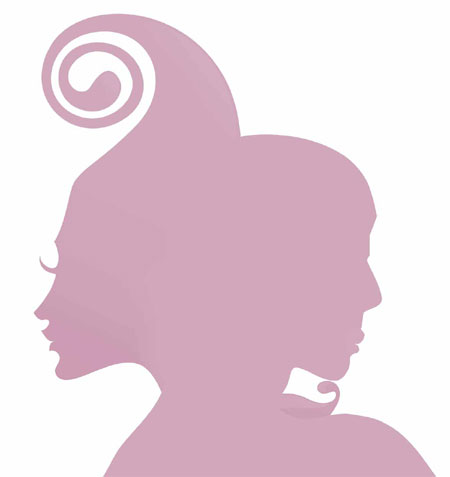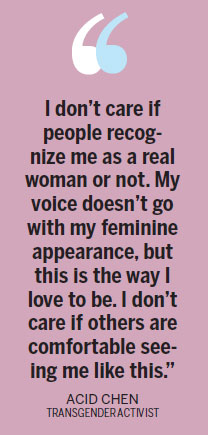 Youths are leading the shift toward tolerance of the lesbian, gay, bisexual and transsexual community. Xu Jingxi in Guangzhou and Cheng Anqi in Beijing report.
Xu Hui's parents locked him in a mill, hired an exorcist and psychologists, and forced him to undergo acupuncture that accidentally pierced his lung, in order to "cure" his feminine behavior. The boy enjoyed playing with his sister's Barbie dolls and wore bras stuffed with tissue. "I increasingly felt like a girl but didn't think too much about it," says the 22-year-old, who now considers herself a woman.
"My mom thought I was a freak and made me do farm work to build my muscles."
Xu has been bedridden since 2009, as the acupuncture hole in her lung means it doesn't fully expand when she inhales. Her mother cares for her in their village in Hebei province.
Xu says locals aren't open-minded and don't understand transgender people. Many parents of other transgender children in the village kick their kids out.
"My son is probably gay, which is a black mark on our family," Xu's mother says.
"Other parents have asked us to stay away from their children. I've tried every method to help him live a normal life - but in vain. I'd rather lock him up at home than let him out. He's a disgrace."
It's a life of isolation, Xu says.
"My relatives and friends stay away from me," she says. "I'm lonely."
Xu dreams of finding a local man who will love her but knows the couple will face discrimination.
She recalls being sent home from school for wearing girls' clothes. Other kids called her "pansy".
But today, youths are leading the shift toward tolerance of the lesbian, gay, bisexual and transsexual community, Director of the Institute of Sexuality and Gender at Renmin University Pan Suiming says.
Pan says about 90 percent of university students accept LGBT individuals, which is higher than the national average.
Chinese Academy of Social Sciences Institute of Sociology researcher Li Yinhe's 2008 study found 20 percent of society accepts them, while 6-10 percent of Chinese are members of the lesbian, gay, bisexual, and transgender community.
Transgender activist Acid Chen, who doesn't use her given male name, says she has discovered social acceptance comes not only from society but also from transgender people's attitudes about themselves.
"You must be confident to get respect," she says.
The 23-year-old, who lives in Beijing, hides nothing about her identity.
"My family and friends felt ashamed when they saw me acting feminine," the electrical engineer recalls.
"But I gained new confidence when I came out as a woman. And my employer and colleagues accepted me, although my family still hopes I'll change.
"Having a job and being independent is extremely important for a transgender person to maintain confidence. I've realized we can live happy lives just like anyone else."
Much of this happiness comes from her work as an activist with the LGBT group Aibai Culture and Education Center, she says.
Male-to-female transgender volunteers use Aibai's online forum to post and respond to positive messages to empower transgender people.
Director of Sun Yat-sen University's Sex/Gender Education Forum Ke Qianting says that, while the country has a long way to go before fully accepting transgender people, the Internet enables today's transgender individuals to engage each other.
"They feel less isolated today than in previous decades," Ke says.
The Chinese male-to-female transgender online community Xiasl.net, for instance, has more than 110,000 registered members.
Such online communication helps many transgender people avoid much of the confusion faced by people like Chen.
"It took me so long to figure out I was a woman, especially when my family and friends pressured me to be manly," she explains.
"Now, I don't care if people recognize me as a real woman or not. My voice doesn't go with my feminine appearance, but this is the way I love to be. I don't care if others are comfortable seeing me like this."
Chen doesn't take hormones and doesn't plan to undergo sex reassignment surgery.
She started wearing women's clothing last Spring Festival and came out to her parents as a woman in May.
Her parents yelled at her and threatened to kick her out if she didn't cut her long hair.
"But I insisted this is who I am, and my parents tacitly accepted it," Chen says.
Chen says her high school classmates were speechless when she attended the class reunion as a woman.
Many had bullied her during her primary and middle school years, she says.
"They called me 'crybaby' and punched me," she recalls.
"But their fists didn't hurt as much as my parents' words, when the teacher called them to pick me up. They stood with their hands on their hips and told me boys should fight back."
Chen calls these words "gender violence".
"Why must boys hold back tears, while girls can cry and ask for comfort, and the bullies are punished? There shouldn't be dos and don'ts people have to observe to fit gender stereotypes."
One of Chen's transgender friends lost hearing in one ear at the age of 16 when a group of bullies knocked the boy around on campus for being feminine.
Another was totally isolated and driven out of both the boys' and girls' toilets.
"Transgender life at school is torture," Chen says.
"Many students don't understand equality and respect. They don't know how to deal with a third-gender person."
Li, the researcher, says unisex bathrooms offer solutions, as restrooms are an issue for people transitioning into a different gender.
Many companies now include transgender or transsexual employees in their anti-discrimination policies, Li says, and extend this to restrooms.
Some employers install single-occupant bathrooms. Others enable restrooms to be locked from the inside.
"Face-to-face communication is the best way to resolve the bathroom issue," Li says.
"Transgender individuals can educate their peers and superiors."
Gender education is the best weapon to fight discrimination, Ke says.
"Without the understanding that comes from gender education, employers still come up with excuses to discriminate against transgender people, even if their rights are protected by law."
She believes it will be difficult to win government support making gender education compulsory, especially at the primary school level.
Taiwan issued a law on gender-equality education in 2004 but the inclusion of LGBT issues in primary and secondary textbooks in 2011 created such controversy the policy was suspended.
Such education is important because most of the pressure transgender people face comes from their families, says 84-year-old Qian Jinfan, a Foshan, Guangdong province, native who started living as a woman four years ago, as the country's oldest openly transgender person.
Qian hid her identity from her parents their entire lives.
"China's male-to-female transsexuals suffer most because many still believe men are superior. Transgender people bridge the distinction between male and female. Equality for transgender people is part of gender equality for all."
Contact the writers at xujingxi@chinadaily.com.cn and chenganqi@chinadaily.com.cn.
Erik Nilsson contributed to the story.