Trump overrules rejection of transgender beauty queen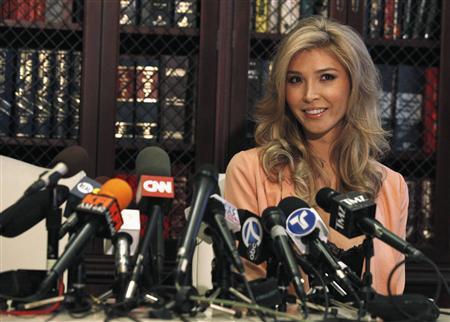 Canadian model Jenna Talackova attends a news conference in Los Angeles, California April 3, 2012. Talackova, a transgender beauty queen who was dropped from the Miss Universe Canada competition by pageant representatives, has been given the green light to go by the Donald Trump-led Miss Universe Organization. The 23-year-old will, however, need to prove that she meets the ''legal gender recognition requirements of Canada'', according to local media.[Photo/Agencies]
Businessman Donald Trump has overturned a decision by the Miss Universe Organization, which he owns, to disqualify a Canadian transgender beauty pageant contestant because she was not a "naturally born" female.
Jenna Talackova, a tall blonde who underwent gender-reassignment surgery at age 19 and holds legal documents affirming her identity as a woman, wants pageant organizers to go further and drop eligibility rules she calls discriminatory.
Talackova, 23, was kicked out of the Miss Universe Canada competition last Friday after she was selected as one of 65 finalists. The winner of that contest, who ultimately will be crowned on May 19 in Toronto, will go on to represent Canada in the global Miss Universe Pageant later in the year.
In throwing her out, pageant organizers accused Talackova of having "falsified her application when she said she was born female," adding that the Miss Universe Organization "has rules which apply to all of its franchises around the world."
Her disqualification sparked commentary on the Internet and cable television news shows about the boundaries of gender identification, civil liberties and the rights of private organizations to set their own rules.
Talackova, who carries a Canadian passport, driver's license and birth certificate that all identify her as a woman, appeared on Tuesday with Los Angeles-based attorney Gloria Allred, a high-profile legal advocate for women's causes, demanding to be allowed back into the contest.
'I WAS DEVASTATED'
"I am a woman. I was devastated and I felt that excluding me for the reason that they gave was unjust," Talackova said in a statement she read to reporters.
She and Allred also called for the Miss Universe organization to abolish its rule requiring contestants to be "naturally born" females. Allred called it "an antiquated rule grounded in prejudice, fear and stereotypes."
"It isn't just about her being able to compete," Allred said. "Jenna is standing up for others as well as herself. She doesn't want this type of discrimination to be faced by anyone else."
But by then, pageant organizers had already reversed course on Talackova's eligibility at the behest of Trump, who is president and owner of the Miss Universe organization.
"As long as she meets the standards of legal gender recognition requirements of Canada, which we understand that she does, Jenna Talackova is free to compete in the 2012 Miss Universe Canada pageant," said Michael Cohen, special counsel to Trump and executive vice president of his business group.
"Nobody is capitulating. Rather the Miss Universe organization is respecting the laws of Canada," Cohen told Reuters, adding that she, "like all the other contestants, is wished the best of luck by Mr. Trump."
He also said, "Assuming she wins, she would be the representative of that country (Canada)" in the larger Miss Universe Pageant.
Reached in a separate telephone interview, a Miss Universe spokeswoman, Brenda Mendoza, agreed, saying, that "if (Talackova) were to win the (Canadian) title, she would move on to the global telecast."
As to demands that the pageant do away with its naturally born female requirement for eligibility, Cohen was non-committal.
"At this point in time, the Miss Universe Organization, along with its counsel, is taking this issue under advisement," he said.