Bartender gives teahouse a cool summertime twist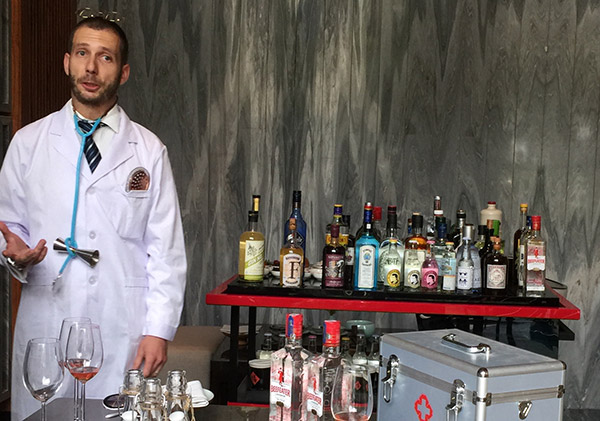 "Gin Doctor" Attila Balint explains his array of gins and tonics.[Photo by Mike Peters/China Daily]
In this very traditional Ming-style teahouse, the flavors and aromas I'm experiencing are a little unexpected.
Tarragon.
Grapefruit.
Pepper.
Blueberry.
So far the profile might fit an exotic kind of fruit tea, except these were muddled in a good gin.
You could forgive the staff at the luxe Nuo hotel's Yuan Teahouse for being a little confused. The elegant space in Beijing has a well-earned reputation for top Chinese teas served in a very traditional style.
Now they were being asked to serve gin drinks? And ICED tea?
"We can do something a little different and still do it with great quality," says Attila Balint, the hotel's resident bar guru.
Invited to come and cool off on a recent 40 C Beijing afternoon, a dozen local media folks from around the capital gathered in the hotel's tea house, where Balint first poured refreshing sips of four specially brewed chilled teas.