Flavors of Greece come to Beijing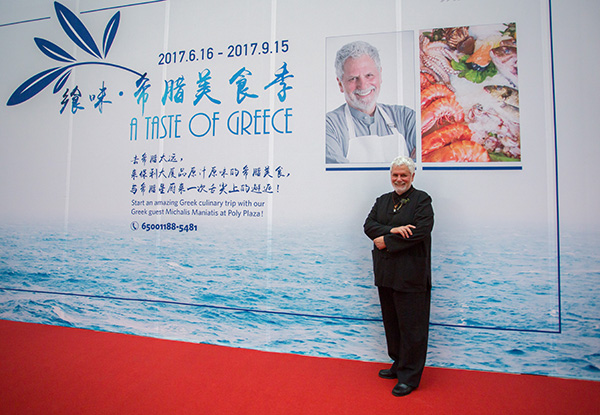 Michalis Maniatis [Photo provided to China Daily]
When you visit Greece, from the majestic Athens Acropolis to romantic Santorini Island, you are immersed in the unique blue and white colors of Greek nature and architecture. They are trademarks of an ideal seaside holiday resort, and Greek food is an indispensable part of it.
Local Greek dishes offer unforgettable memories with their strong Mediterranean flavor and the aroma of summer herbs, and now foodies in China's capital can taste and enjoy them. Traditional Greek cuisine is on offer at Villa Flora Western Restaurant of the Poly Plaza Hotel through Sept 15. Greek culinary expert Michalis Maniatis and diplomats from the embassy of Greece attended the opening ceremony on June 16, expressing hope that the Chinese can have an amazing culinary journey and a taste of Greece summer.
Nowadays most people know Greece as the birthplace of the Olympic Games, but recent studies have brought attention to the dietary importance of contemporary Greek cuisine and its healthy benefits for consumers, thanks to traditional Greek food products such as olive oil and yogurt that have always played a major role in Greek cooking.