Silk Road on a plate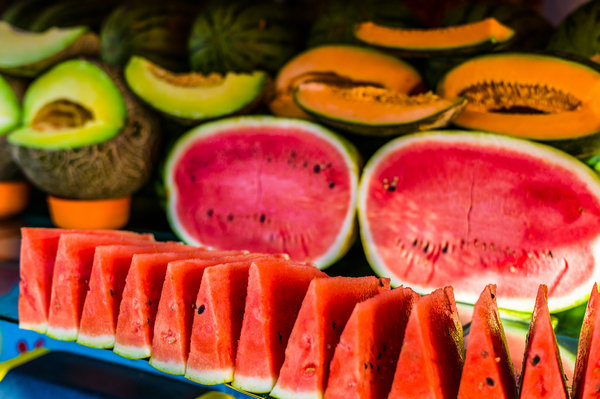 The ancient Silk Road has brought about economic and cultural exchanges in China and abroad, as well as a variety of new fruits and vegetables including grapes, watermelon, eggplant and garlic that have appeared on dining tables ever since. [Photo provided to China Daily]
Pomegranates: The pomegranate originated in the region of modern-day Iran, and has been cultivated since ancient times around the Mediterranean and northern India. The fruit was introduced to China during the Tang Dynasty (618-907), and was considered an emblem of fertility and numerous progeny.
Walnuts: Brought back by Zhang, the walnut is also known as the longevity fruit. It can warm and invigorate the body, and often serves as a key ingredient in Chinese pastries.
Garlic: Garlic is native to southern Europe and central Asia. During the Western Han Dynasty, Zhang introduced this species in the onion genus, Allium, to China. During ancient times in China, foreign tribes were referred to as "Hu troops", so garlic was originally referred to as "Hu garlic".
Eggplant: Originally domesticated in India and Southeast Asia, eggplant was brought into China during the Han Dynasty, and became a common vegetable in the Jin Dynasty (AD 265-420).
Sesame: Introduced into China by Zhang, sesame has many species, with most being wild and native to sub-Saharan Africa. Sesame indicum, the cultivated type which is edible, originated in India.