New Year's menu gets royal touch at McDonald's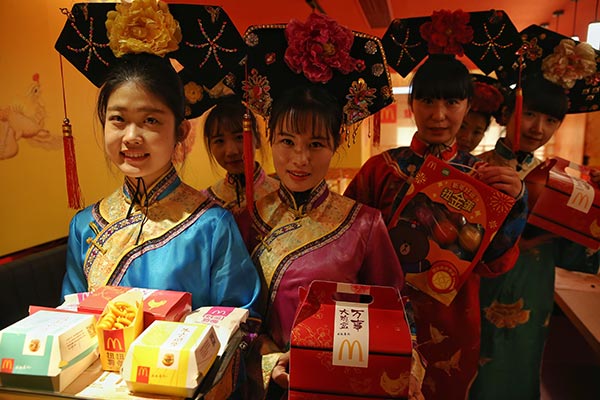 The McDonald's holds an event to promote its New Year menu. [Photo by Jiang Dong/China Daily]
As the Spring Festival is coming, McDonald's has launched a new menu featuring elements inspired by Chinese royal names.
The new menu includes a variety of burgers, snacks, desserts and drinks with names that are word plays on royal titles.
For example, "Bengong phoenix burger" contains fried chicken, pineapple and lettuce, with sweet-and-sour sauce. "Bengong" is how an empress referred to herself in China, and Chinese consider the Chinese phoenix as the symbol of an empress.
The restaurant chain has also launched a new set of Line Friends capsule toys, which contain Brown bears and Cony the bunnies with eight different looks.
Beijing diners get discounts if they pay with a Bank of China debt card on Fridays and weekends.
Related:
Quanjude uses QR codes to curb counterfeiting