Riveria chef makes delicate art on plates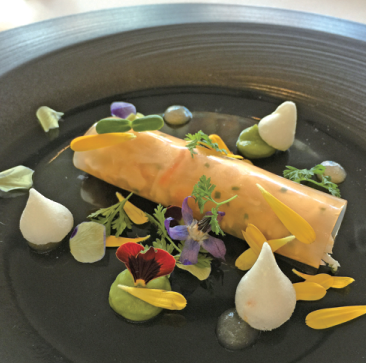 Colagreco's king crab and grapefruit roll at Azur. CHINA DAILY 
Dabs of bright green parsley foam represent moss. A landscape takes shape with carefully placed mushrooms. The white sauce signifies the first snowfall of the year.
Watching chef Mauro Colagreco putting A Walk in the Forest together on an elegant plate, it's easy to close your eyes and imagine a classical painter at work. So it's no surprise to learn that the artistic chef really does paint in his free time.
Not that he has much time to spare.
Colagreco has been in Beijing for the just-ended Shangri-La International Festival of Gastronomy, the hotel chain's two-week celebration of its Michelin-star winners in cities around the world. After presenting a couple of special dinners at his blue-hued restaurant Azur and the master class he hosted for media, he's headed back to the French Riviera. That's where, in the city of Menton, his Mirazur restaurant earned its first Michelin star less than one year after it opened in 2006. In 2015 the restaurant was ranked the 11th-best restaurant in the world and No 1 in France by S.Pellegrino World's 50 Best Restaurants.
A long list of awards came in between, as well as the opening of restaurants that bear his imprint in Paris and Nanjing.
Like at his flagship restaurant in France, his menu at Azur is inspired by the entire Mediterranean. His heritage is Argentine-Italian, and since Mirazur is located very near the Italian border, he says he cooks "without baggage" and with a lot of culinary freedom.
"People think of French food as very saucy and heavy," he says, "but at its best the food of the region is fresh and subtle."
Born in Argentina, he has lived in France for the past 17 years, working with celebrated chefs like the late Bernard Loiseau, Alain Passard at l'Arpege in Paris, Alain Ducasse at Hotel Plaza Athenee and finally spending a year at Le Grand Vefour.
But the inspiration he prizes most came from his grandmother, who impressed him with the joy of sharing food and wine with guests.
"I have found that appreciation of food is something our culture shares with the Chinese," he says. "I want people to come together, to break bread with our hands."
Twenty years ago, going out to a restaurant was a special occasion, he notes. "Now we do it all the time-it's not such a rigid thing. But now needs to be an escape from our busy lives-people need fraternity."