Expo offers a chance to eat along the Maritime Silk Road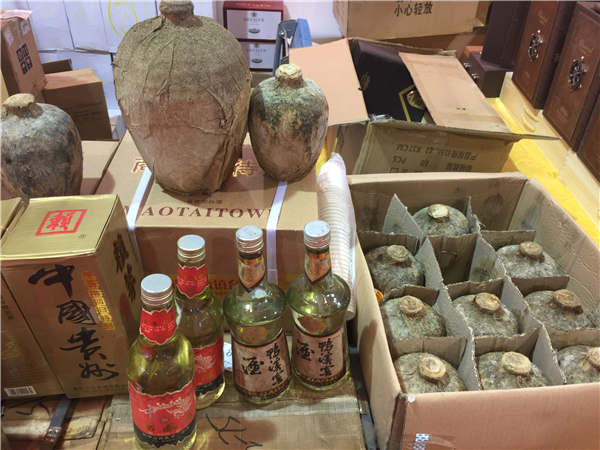 A show of aged white spirit at the 21 Century International Maritime Silk Road expo in Dongguan.Mike Peters / China Daily
There was an exhibition hall devoted to tea, another to silk and an extensive international photo show.
But like me, much of the crowd at last weekend's 21 Century International Maritime Silk Road expo in Dongguan city was focused on the food pavilion, where packaged foods, cooking stations and the roots and herbs of traditional medicine all competed for the attention of visitors.
Last year's expo, held just outside Guangdong's provincial capital, Guangzhou, attracted more than 100,000 visitors, and the crowd this year seemed likely to surpass that. Eager hawkers invited passers-by to sample wares from all over: coconut crisps from Thailand, coffee from Vietnam, spicy noodles from Malaysia - and pasta, olive oil, wine and much more from Italy. With Venice as the recognized end point of the old Maritime Silk Road, it was only fitting that Italy stood out with a huge presence, with merchants as eager as those 12th century Venetian traders who dominated their surrounding seas.
Whether precisely from a traditional Silk Road port or not, countries eager to embrace the spirit of China's Belt and Road Initiative were represented. Now as in medieval times, anyone eager to come and trade could be a member of the club.
Among them was John Drayton of Australia's Drayton Family Wines, who was at the expo with a group of companies from Hunter Valley. That region is famous for its wines, but there were real-estate and golf-resort companies in the group as well as wineries.
Drayton has been in the China market for a decade with his premium-market wines.
"At its peak, China represented about 40 percent of our sales," he says, "but that has slipped some, to about 25 percent today." The change came when the nation's campaign against extravagance began in 2012, and the gift-giving market dried up.
But China continues to be the world's largest consumer of red wine, and since taxes on wine sold in Australia are high, China continues to be a lucrative market for small producers like Drayton.
The online market that drives sales in China is also a plus, says Colin Peterson of Peterson's Wines, another Hunter Valley producer at the show.
"We are already selling wine that way in Australia," he says, although that's still a growing segment there. "So it didn't take a change of mindset to do business that way here." Peterson says his online platforms here sell a lot of wine to well-traveled Chinese - some that know his wines from visiting Australia, and some who were just exposed to the quality of Australia's wines on a visit, who are seeking similar vintages now that they are back in China.
While there were grape wines from many Western countries, Chinese wine on display was often the product of other fruits. There was blueberry wine from Shandong province, mulberry wine from Guangzhou, and litchi wine - which is made from the particular litchi variety xianpoguo from Huizhou of Guangdong province. The fruit has a 1,000-year history of use in fermenting vinegars and brewing litchi wine.
"The wine keeps the fruit fragrance of litchi," says the company brochure, "with dense scent, perfect taste, and rich nutrition, and contains diversified nourishments and microelements such as amino acid, vitamins and minerals, and can stimulate appetite, benefit the spleen, reinforce vigor and maintain health and beautiful skin".
Stories like that could be found all over the Silk Road expo, which ended on Saturday.