Famous Shanghai scallion pancake shop reopens with license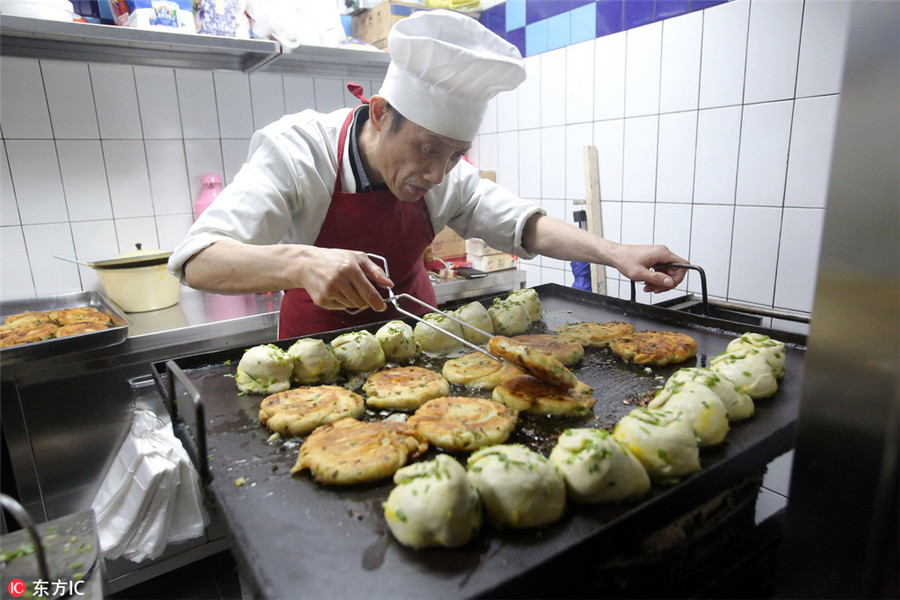 Wu Gencun, owner of the legendary Ada Scallion Pancake, works in front of the grill to serve the morning crowd on Nov 2, 2016 at the shop's new location on Yongjia Road in Shanghai. [Photo/IC]
Shanghai's Ada Scallion Pancake shop reopened on Yongjia Road on Friday after owner Wu Gencun reached a cooperative agreement with an online food ordering company. A month before that, his old location was forced to shut down because of licensing issues.
Wu's scallion pancake, which is said to have followed the same formula in the 34 years since the shop opened in 1982, has been dubbed the most authentic of its kind in Shanghai. The shop caught more attention after it was featured on a BBC food show, which brought a surprisingly big crowd of new customers earlier this year.
The pancake, a traditional breakfast in Shanghai, sells for five yuan ( 70 cents) each at the new location. The line is always long and each customer is allowed to buy a maximum of two pancakes. It is said that some scalpers even buy and sell the pancakes for as high as 50 yuan each.