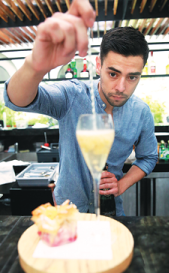 Sami Mersel prepares a cocktail with fresh peaches.[Photo provided to China Daily]
Fruit stars at the bar
Sami Mersel, the Beijing cocktail impresario who is the brand ambassador for Diplomatico rum, offers several cocktails that take advantage of the peach's summer sweetness.
Bellini
Fresh peach puree "caviar"
Duval Leroy Champagne
Mersel uses bar equipment to convert the peach puree into "caviar", like the balls of tapioca used in bubble tea. At home, simply spoon a teaspoon of the puree into each champagne flute before adding champagne.
Carnival Sour
50ml Encanto Pisco
20ml fresh lime juice
1/2 fresh peach
15ml vanilla and grapefruit syrup
Egg white
Puree peach and then combine all ingredients in a cocktail shaker.
Calla Bassa
50ml Gin Mare
20ml fresh lemon juice
10ml Cointreau
2 bar spoons homemade peach marmalade
Few drops of rosemary oil
Combine all ingredients in a cocktail shaker.