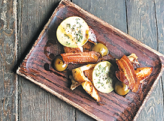 [Photo provided to China Daily]
Recipes
Twince-cooked chicken thighs, with raw and roasted peaches, smoke bacon
4 portions
2 ltr good chicken stock
4 boneless chicken thighs
1 peach (ripe)
1 peach (unripe)
8 slices of streaky smoked bacon (cooked until very crispy)
8 sprigs thyme (finely chopped)
Put stock into large pan, and bring to boil, skimming any impurities off the surface. Carefully place chicken into simmering stock, poach lightly for 20 minutes. Remove chicken and cool down quickly.
Cut unripe peach into 12 segments, and thinly slice the ripe peach into 8 disk shapes.
Caper and golden raisin puree
50g capers
150g golden raisins (washed)
400ml chicken stock (from poaching chicken)
Add together in a pan, and cook until raisins are soft, then puree.
To finish and plate
Get a nonstick pan hot; add a little olive oil, and sear chicken thigh skin-side down. Cook 3-4 minutes and get skin crispy, turn chicken over and add unripe peach segments. Cook 2-3 minutes, turning peaches over and over until golden brown. Remove from heat and drain well.
Sprinkle a little olive oil over the ripe peach disks and chopped thyme.
Place a little caper and raisin puree on plate, add chicken and roasted peaches, top with raw peaches and bacon.
Finish with a little of the reduced chicken stock and olive oil.
SOFT-SERVE VANILLA YOGHURT, POACHED PEACHES, HONEYCOMB
4 portions
Yoghurt sorbet