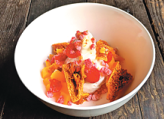 [Photo provided to China Daily]
75g sugar
75ml water
1 gelatin leaf
600g of plain yoghurt
1 gelatin leaf
600g plain yoghurt
Make a sugar syrup by boiling together the water and sugar in a pan until the liquid has the consistency of a syrup. Add the soaked gelatin leaf to the pan, then add the yoghurt and mix in with the rest of the ingredients. Churn in an ice-cream maker, then store in the freezer until ready to serve. (Instead of making from scratch, you can use store-bought frozen yoghurt.)
Honeycomb
320g sugar
80g glucose
120g honey
40g water
Prepare all your equipment before starting.
Line a deep bowl with greaseproof paper.
Then in a deep pan (this will keep the honeycomb from boiling over), bring the water, honey, glucose, and sugar to a boil; cook till it reaches a light golden color. When it is golden take it off the heat, and working very quickly mix in 20g bicarbonate of soda, and turn out quickly into the prepared deep bowl. Don't move the bowl till completely cooled, or it could drop flat. Break up honeycomb and store in airtight container.
Poached peaches
150ml Muscat de Beaumes de Venise dessert wine
200g golden caster sugar
1 large orange, zested
1 vanilla pod, split
4 ripe yellow-fleshed peaches
Pour the Muscat wine and 300ml of cold water into a small pan, then add the superfine sugar, strips of orange zest and vanilla pod. Gently simmer until the sugar is dissolved. Carefully add the peaches.
Poach the peaches very gently for 7-10 minutes, until tender when pierced with a sharp knife.
Remove the peaches from the syrup and when cool enough to handle, carefully peel away the skin. Return the peeled peaches to the poaching syrup and allow to cool completely. Chill until ready to serve.
To finish and plate
Pour out yoghurt from soft-serve machine (or use store-bought frozen yoghurt), top with broken honeycomb, poached peaches, fresh raspberries.