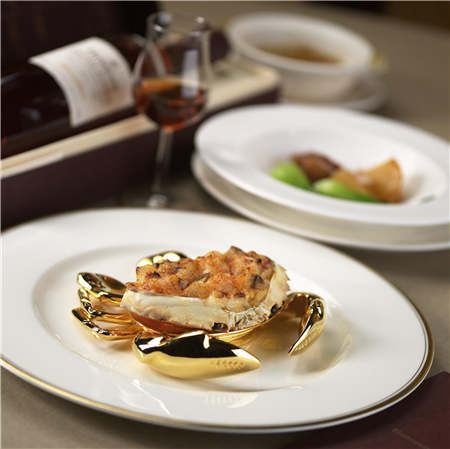 T'ang Court's dishes for the Chinese New Year include baked seafood rice with cream sauce in crab shell.
There is a particular challenge for Chinese chefs and restaurants, many observers believe. While critics and guidebooks reward European chefs for molecular flights of fancy and other bursts of creativity, top-rated Chinese restaurants tend to be masters of their traditional fare.
That's certainly true of T'ang Court, which Kwong has shepherded since more than two decades ago when the local family restaurant later absorbed by the luxury hotel.
"Even today, 50 percent of our restaurant business is repeat customers-two and three generations of families that have eaten here for years."
So while Kwong is planning a new menu to stay on his game, An says, tradition must be served, too.
Both longtime customers and anonymous judges from outside apparently appreciate that. A Michelin-starred restaurant since 2009, T'ang Court serves a wide selection of authentic Cantonese culinary masterpieces and delicacies, earning international culinary acclaim over the years. Kwong and his team have won awards for dishes like the sauteed prawns and crab roe with golden-fried pork and crabmeat puffs, as well as the stir-fried Fresh lobster with spring and red onions and shallots.
This week the focus is on the imminent Chinese Lunar New Year. Hotel guests celebrating the Year of the Monkey will enjoy "hero dishes" including the sauteed sliced lobster with crab roe, Chinese kale and water chestnut and the steamed egg white with bird's nest, minced Yunnan ham, crabmeat and crab roe, which features premium-grade bird's nest from Indonesia. Among special dim sum offerings, meanwhile, the baked pastry filled with bird's nest, crabmeat, Yunnan ham and coriander bursts with extravagant filling that symbolizes abundant wealth and fortune, while the golden-fried goose liver and shrimp paste dumpling also represents prosperity.