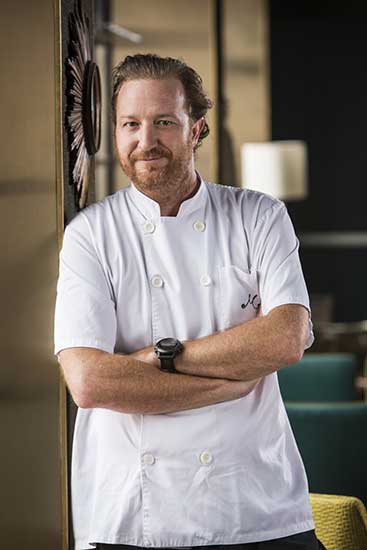 Chef Hamish Pollitt at the recently opened Glam, a bar that offers the nightlife scene of the Bund in Shanghai and a nice selection of eats.[Photo provided to China Daily]
"If there is a color to define the glam of Shanghai, it's the warm, modern and sensuous blue," says Garnaut.
To define the flavor of Shanghai, Garnaut and chef Hamish Pollitt, who is also running the kitchen at M on the Bund the next door, do lots of traveling.
The sweet-and-sour beef tartar with chili, pomelo and lemongrass is a culinary souvenir from Thailand; the airy and juicy tonkastu (Japanese fried pork loin) sandwich is inspired by a hasty meal before leaving Japan; the simple yet satiating "truffle'd cheesey toasties" makes us wonder which of the many destinations might have fired the imaginations of its creator and produced its divine taste.
For the more substantial choices, the Angus beef topped with Parisian butter is sure to gratify any carnivore. It's a beauty and the beast pairing on the table: While the tender but firm steak reflects masculinity, the creamy melting Parisian butter is reminiscent of the sensuous beauties like Marilyn Monroe.
Although the new Glam is shifting towards being a gastro lounge instead of a nightlife club, the drink menu isn't getting skimpy. Featuring more than 100 choices, the drinks list might be the most inclusive one can find in Shanghai. The much delayed opening allowed manager David Wang more time for selection and choice additions. Expect a lot of fun reading while ordering: Sex on the Bund ... not allowed (vodka and cranberry juice), Death of Hemingway (absinthe and Champagne), to name just two intriguing entries.