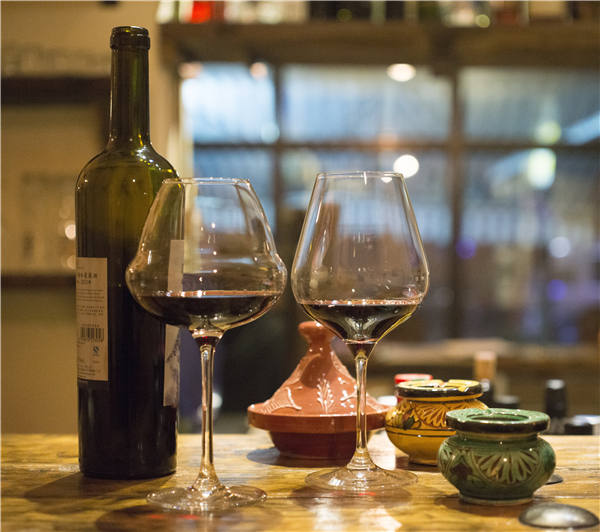 A curved glass for champagne holds the aroma better than the popular straight-edged flutes.Bruno Maestrini / China Daily
One distinctive vessel, for example, was designed by the UK's Lehmann Glass to make swirling wine easier, says Mike Signorelli at Signature Wine.
The Oenomust glass is a big-bowled design typical of red-wine glasses, but it has "hips" about a third of the way up. "That keeps the wine down in the glass," says Signorelli. The glass became such a hit that it now comes in different sizes and a matching decanter is now offered.
Another key to better appreciation, experts note, is to avoid filling the glass more than one-third full. Fine wine glasses, especially the more curvaceous ones, are designed to capture, intensify and direct the aroma of your chosen vintage to your nose and palate. To do that, most of the glass should be filled with air, not wine.
How you hold the glass also changes the way you enjoy the wine, says Mariano Larrain, owner of the La Cava de Laoma wine shop in Beijing's Sanlitun Soho.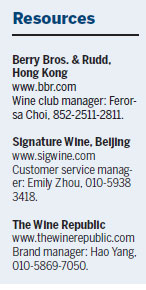 "Try drinking this wine three ways: Holding the glass by the stem, by the bowl and by the base. Each way changes the way the aroma collects for your nose," he says. "With many wines, the difference is surprising, but it also makes you wonder what the design of the wine glass does."
Another innovation in glass design is tailored to modern champagne and other sparkling wines. Instead of the traditional champagne flute, Lehmann and other glassmakers recommend a cup with a slight inward curve, also designed to enhance appreciating the aromas of such wines.
"Of course, you can go from one extreme - one glass fits all - to the other: a different glass for every wine," says Harris.
"My own wine club offers slightly different glasses for red Bordeaux and red burgundy. That's fun for the professionals and those who are learning to write wine notes or training to be sommeliers, but most of us don't need that many. Plus, if you like to entertain, you really just want to buy a set of red-wine glasses and a set of white-wine glasses."
Even simpler, says Signorelli: "There is a mid-size curved glass that can be used for red or white."
Prices for stemware made by Lehmann starts at about 125 yuan ($20) per glass through wine clubs or shops such as La Cava in Beijing's Sanlitun Soho. Top-of-the-line mouth-blown glasses from Lehmann or the Austrian craftsmen at Zalto (available through The Wine Republic) run about 650 yuan each. Berry Bros. & Rudd in Hong Kong offers several price points and brands (including Reidel) of glassware.
Contact the writer at michaelpeters@chinadaily.com.cn
Serving suggestions: Keep it cool
As a general rule, always serve wines on the cool side as they will warm up in your hands, whatever the weather.
Serving White and Sparkling Wines:

Serving Red Wines:
The tannin level in a wine dictates the temperature at which it should be served. The more tannic a wine, the warmer you should drink it. Reds that are low in tannin can be chilled like a full-bodied white. If a red is served too warm, it will become soupy and all you will be able to taste and smell will be the alcohol. As with all wine, serve cooler rather than warmer.