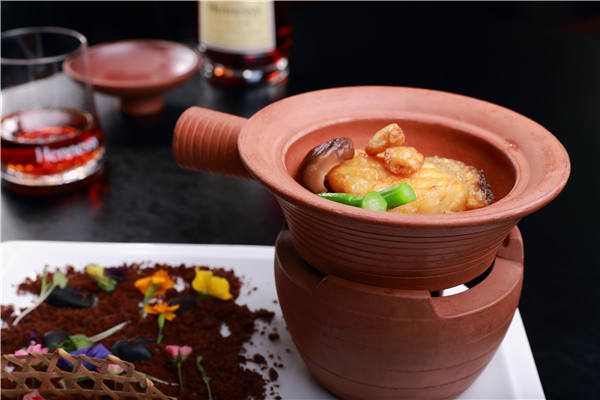 These Cantonese dishes are among the eight on the set menu paired with cognac. The combination was created by a team of celebrated Cantonese chefs and food critics.
That's part of the inspiration behind the pairing principles.
Hennessy V.S.O.P., for instance, goes best with strong flavors, such as fermented black garlic or fermented soybeans, or dishes dressed with ingredients such as chives. These foods will, in turn, change the drink's flavor.
Hennessey X.O. goes best with meaty Cantonese fare, or dishes prepared with orange peel, brine or oil-fried scallions, because this multilayered tipple exudes a sweet yet pungent aftertaste. And these foods, in turn, make the brandy rounder and more aromatic.
Hennessey Paradis goes well with seafood. The smooth and full-bodied brandy enhances the seafood's flavor, while the seafood's savoriness, in turn, brings out the brandy's fruitiness.
LVMH-Moet Hennessy Diageo China's managing director, Frederic Noyere, says the company chose to start the campaign in Guangzhou because its brandies first entered China through the city's ports in 1859.
China has become the company's No 2 market by value, after the United States, and he's confident the growing middle class and expansion in northern China will elevate the country's importance to the company's business.
liuzhihua@chinadaily.com.cn