Macaroon chef takes eager kids to his sweet spot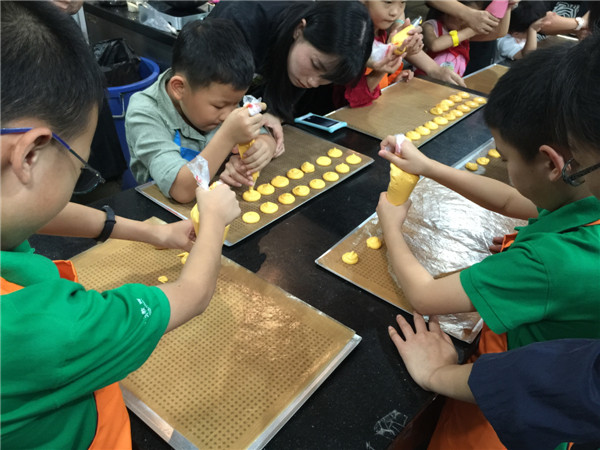 Primary-grade students from a Beijing language academy at Gateaux& Cadeaux for a lesson in making macaroons. [Photo by Mike Peters/China Daily]
Yu's assistant has been whirring sugar and almond powder in a big shiny commercial mixer as the chef is talking, and now hands out two pastry tubes full of sweet batter. One watching parent shakes her head, fearing mischief from little boys thus armed, but each child is intent on the job, squirting rounds of batter onto his or her cookie sheet that are recognizable if not uniform.
While the cookies are baking, we make hot chocolate and have one last sound bite of French, with a flash card that reads: "Boire, si vous plait." (Drink, if you please.) Everyone repeats the phrase with Yu, giggling at their newfound politeness.
Once the aromatic cookies are brought out from the oven and cool, each young chef pairs up disks that match in size and then fills each cookie sandwich with butter cream. Most of the sweet filling ends up where it's supposed to. Finally, it's time to decorate the finished macaroons, and moms and dads are quick to admire the artistic results.
The chef reviews each decorated result with a pat on the back for the junior chefs, who go home with a certificate.
Yu himself is grinning from ear to ear, delighted by their enthusiasm.
Excited as he was to go to Europe and study the art of pastry, he says, he always intended to bring what he learned back to Beijing. Today, a dozen eager faces reflect the same joy of creation.
If you go
Gateaux & Cadeaux
2 Dongsanhuan Beilu Jia, Chaoyang district; www.gtcd-france.com; www.gc-france.taobao.com.
010-8449-2699.