Tent for fearless
Don't tell the folks at the recently opened West Side Cafe and Bar that Beijing's already had its first snow. They've got their tent-covered patio finally ready and insist it's party time. The fun starts on Wednesday with a specially priced German menu, free-flow draft beer, '80s music from DJ Lee and a clearance sale on the cigar stock.
1/F, Prosper Center, 5 Guanghua Lu. 010-8587-5096.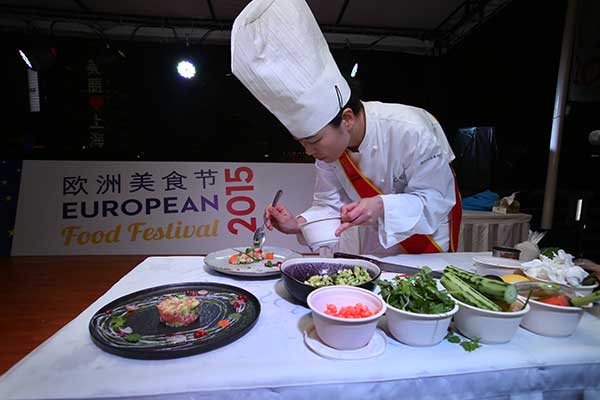 [Photo provided to China Daily]
SHANGHAI
Tastes of Europe
The first European Food Festival supported by the delegation of European Union in China wrapped up this weekend on Shanghai's century-old dock on the Bund. The 10-day-long event was a part of the celebration of the 40th anniversary of the establishment of diplomatic relations between the European Union and China. Gathering more than 30 exhibitors showcasing over 50 types of food from all over Europe, the event has offered some of the most hard-to-find snacks and specialties in China, including Polish sausages, Austrian ribs and Greek gyros. During weekends, there were also live cooking shows for kids and adults to get both hands and mouths "busy". The festival is an ongoing event that is visiting several cities in China this year.