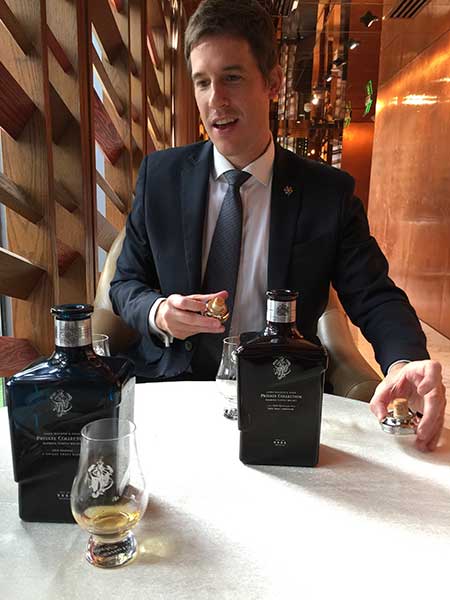 [Photo provided to China Daily]
Developing fans for whisky has been a key mission of the Johnnie Walker Houses since the first one opened in Shanghai in 2011 and the second in Beijing's Qianmen area a year later. While the lavishly furnished interior entices with exclusivity, the dining room and bar have evolved into semi-private facilities where the public, not just members, can come to enjoy tastings and fine food. In a new promotion titled "Joy will take you further", an introductory Joy membership gets you a bottle of Blue, Sunday brunch for two and some mentored whisky-tasting. Full-fledged members, or "patrons" pay 50,000, 280,000 or 800,000 yuan on account for different levels of privileges that include member pricing, members-only special events with celebrities, and storage lockers. Top-level patrons can ask the Scotland distillery's current master blender, Jim Beveridge, to come to Beijing and craft a signature blend of whisky to their individual taste.
To get to the restaurant and bar areas, we pass through a gallery of special-edition bottles, including three elegant beauties in blue-and-white porcelain filled with cask-strength whisky, glass bottles embossed with gold dragons, snakes and rams to mark Chinese New Year, and other bottles specially made for visiting celebrities. Off to one side, there is a big tasting room, where members can sit with an expert to explore the fruity-to-smoky gamut of premium scotches.
Beyond the food and beverage, the retail store and the patron services, Kistler says, the house is about education and experience-the storytelling behind Scotch whisky, John Walker and Sons in particular.
The most widely distributed blended Scotch whisky in the world, its founder and first master blender set up shop as a grocer in Kilmarnock, Scotland, in 1820, and started blending whisky soon after. John's son Alexander introduced the iconic square bottle in 1860, which allowed more bottles to fit the same space and resulted in fewer broken bottles during shipping and handling. The other identifying characteristic of the brand's bottle, the label, sits at a pert angle of 24 degrees, so the text could be made larger and more visible.
Today, the brand sells more than 100 million bottles around the world annually under its corporate parent Diageo, whose brands also include Guinness and Shui Jing Fang, the Chinese baijiu distillery. Like many multinational drinks firms, Diageo has seen its profits take a significant knock since the Chinese government's campaign against extravagance and gifting was launched in 2012.
This spring Sam Fischer, Diageo's Africa and Asia Pacific president, said despite the clampdown, the region has strong potential for mid-to long-term growth, with improvements expected in the first half of fiscal 2016.
"While I don't expect to see baijiu and Scotch rebound quickly," he said in a February conference call to media, "I do remain confident in China in the medium to long-term.
"GDP is expected to grow at 6 to 7 percent CAGR in the next five years, and the number of affluent consumers is expected to more than double by 2020."
That confidence and commitment to the region, Kistler says, is reflected in the company's establishment of the Johnnie Walker House here-with siblings in Shanghai, Chengdu and Seoul. As we work our way through brunch-which started with a delicate trout mousse and ends with "Eton mess", a colorful pileup of meringue and fruit with a fun story behind the name-it's easy to savor confidence in good times ahead.
If you go
Johnnie Walker House Building F, 23 Qianmen Dong Daijie; www.johnniewalker.com.cn; 010-6526-0609.