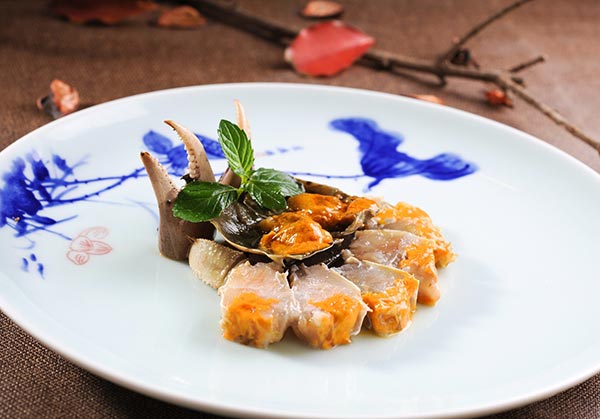 Hairy crab. [Photo provided to China Daily]
"There is a fine line between fishy and fresh when it comes to hairy crabs," he says. That line, as explained by nutritionists, lies in the time hairy crabs are exposed to air after cooking. The high level of protein in the fat of hairy crabs, which provides the divine taste, is also the root of stinky smell when decomposed by bacteria.
There has never been shortage of diners since his restaurants opened, mostly the wealthy and those who sniffed at the likes of endangered shark fin and abalone as extravagances of the nouveaux riches. The average cost per head for a meal is around 300 yuan. During peak season, late November and December, the time that hairy crabs are believed to be the fattest, it's hard to get a seat-or even one of the signature dishes-without making a reservation.
Aside from traditional dishes you can find at many local restaurants during crab season, like crabmeat xiao long bao (dumplings) and stirrfried crabmeat with tofu, Ke takes great pride in his latest dish: tu huang you, or "crab butter only". To make it, chefs take the roe of the female crabs and the sperm of the males, and stir fries them with ginger, pork fat and yellow wine, and then flavors it with broth. The recipe is a secret known only to Ke and his executive chef, but the golden, yolky and fragrant butter-best served with just a bowl of steamed rice-has become a popular delicacy among hairy-crab aficionados.
Inspired by a recipe book said to have been written by a chef from a rich clan centuries ago, the butter was developed to allow rich people to have a taste of the crabs when they are not in season, according to Ke.
While shark fin and abalone are relative newcomers to the dining table, Ke says, "there is a prized place for hairy crabs in the history of Chinese culinary culture. As a food producer, all I am trying to do is to make sure the quality and taste of hairy crabs won't degenerate."