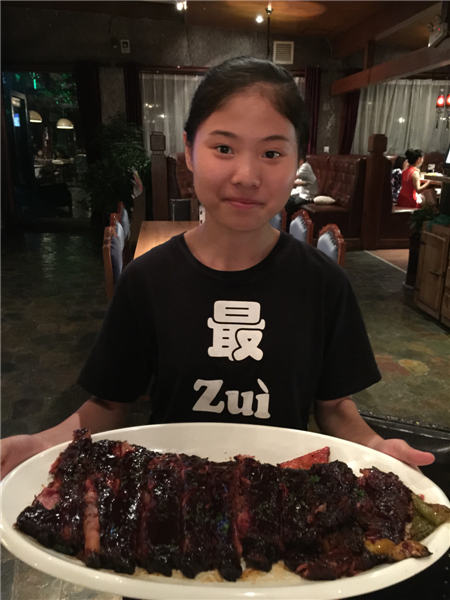 Ribs are stars at Windy City. Mike Peters/China Daily
Can't find a good hot dog in China? Look no further: Merrett serves up the real thing in a fresh bun totted with plenty of cheese, onions and chunks of jalapeno.
Wild mushroom soup is a fancier treat, as is a pasta bowl studded with fat shrimps, mussels and a delicate cheese sauce. The chef's creativity flies more freely with the black miso cod, pan-seared with a citrus-sake glaze and mushroom risotto.
After downing our mess of ribs, with some nicely grilled vegetables on the side, we pass on dessert, settling back after dinner instead with the bellini sweetness that lingers in our glasses. On another visit, we saved room for a tasty apple crumble, another example of the way Merrett takes "diner food" to an exalted level.
Happily, prices are reasonable, thanks in part to a sister Chinese restaurant and resort hotel in the same complex, which the chef says gives him more volume-buying power.
Windy City's chow is served up in a laid-back dining room or on the expansive deck outside that stretches out over a small lake, now bursting with lotus blossoms. If mosquitoes love you, expect to be romanced at twilight if you didn't bring a bit of bug spray. If you forget, the problem may solve itself: An acrobatic group of small bats dances above the water at sunset - mysteriously, they prefer a meal of mosquitos to Merrett's ribs.
Contact the writer at michaelpeters@chinadaily.com.cn
If you go
Windy City Ballroom
9 Yongtaizhuang North Road (north of the 5th Ring Road). 010-6299-3777.