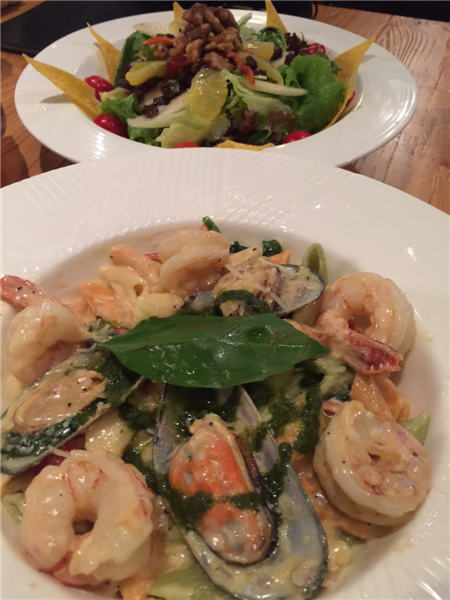 Lighter fare includes seafood pasta and artful salads. Mike Peters/China Daily
"I didn't know you were such a meat-eater," he says as the immense plate comes out.
Born and raised in Texas, where Sunday dinner is grilled in the backyard if weather permits, I am a bit religious about ribs. Merrett is from Canada, another place where beef and wide open spaces are a central part of life. Before any food comes out of the kitchen, my nose is hyper-aware of the big brick smoker the chef's team has built from scratch out back.
It's going to be a good day.
Now in China for nearly a decade, Merrett was part of the team that made Home Plate BBQ a hit in Beijing. His menu at Windy City is entirely different - based on popular platters from Chicago - though comfort food remains king.
The restaurant has been around since 2012 (if there's an actual ballroom, we missed it). But it only really started drawing the foodies out to the northern suburbs a few months back when Merrett took over the kitchen and started experimenting, as he's known to do.
A cocktail connoisseur, he's as focused on the bar as he is on the food menu - and occasionally they seem to meet, as in the pumpkin-pie cocktail (45 yuan). Perfect for those who are tempted to start a meal with dessert, it comes in a big martini glass and tastes like my momma's kitchen smells right before the Thanksgiving holiday. The signature beverage, however, may be the vanilla-bourbon iced tea, not as sweet as pie but equally smile-inducing. A splash of lime gives this drink an unexpected edge on the first sip, but the surprise is quickly addicting. So are the margaritas and the bellinis, the latter frozen and loaded with sangria as well as peachy goodness - perfect for a relaxing summer evening.