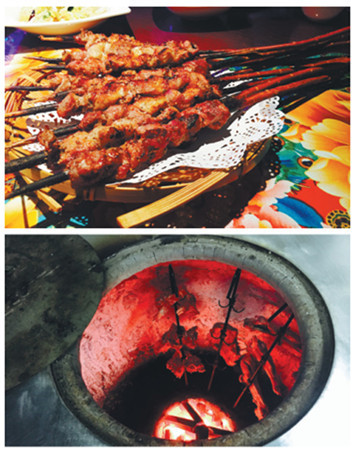 Grilled mutton kebabs (top) and the original naan pit barbecue from the Xinjiang Uygur autonomous region.[Photo by Lin Zhihua/China Daily]
As millions of Muslims in China this month were celebrating the Eid al-Fitr, the festival that ends the holy month of daily fasting and spiritual reflection, the eighth annual Muslim Fare Festival kicked off in Beijing and continues through Aug 18. Famous eateries and vendors on Niu Jie (Ox Street), the oldest Muslim area in Beijing, are selling food and other goods at promotional prices, according to Duan Kaiyun, secretary-general with the Beijing Cuisine Association, a primary organizer of the festival.
Since last year, the celebration has stretched north out of the Niu Jie area to Red Willow Grilled Lamb Spine Restaurant, a Muslim restaurant near the 4th Ring Road. It was among the first to introduce to Beijing diners the original naan pit barbecue from the Xinjiang Uygur autonomous region, a baking tradition that goes back more than 500 years. Naan, a crusty flat bread, perfectly complements grilled lamb and beef, Duan says.
Red Willow, which started as a small takeaway six years ago, began serving diners at tables and chairs in 2014, and it now hosts its grilled lamb spine festival as a part of the Muslim Fare Festival.
The most famous offering: the lamb-spine chops grilled in a naan pit. The chops are marinated with cumin, ginger, pepper and more spices, and then suspended on the walls of the earthen oven, where the temperature can reach more than 300 C, for about 10 minutes. Because the chops are not in direct contact with the fire, which is at the bottom of the pit, the meat will be juicy and tender, explains restaurant owner Wu Hongbin. The cumin seeds used are all from Xinjiang, to ensure an authentic flavor, he adds.
Chinese people often think the meat attached to bones is tastier than other parts, and the mutton embedded into the spine were indeed very flavorful. The marrow inside the spine is said to be rich in calcium and other trace elements.
Another must-try: the grilled mutton kebabs, which are also cooked in a naan pit. The kebabs are skewered with twigs of Tamarix, commonly known as red willow in China. The restaurant also offers other signature Xinjiang fare, including "big-plate chicken" with noodles and potato, roast beef and roasted buns stuffed with mutton.
The restaurant is holding Xinjiang-style dance and singing performances from 8-9 pm Tuesday to Saturday during the food festival.
If you go
Red Willow Grilled Lamb Spine Restaurant
10:30 am-10:30 pm; 55 Xiaoying Beilu, Yayuncun area, Chaoyang district, Beijing. 010-8498-5988.