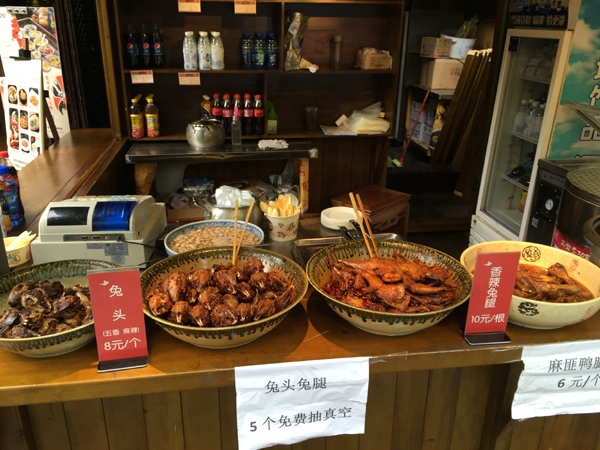 Chengdu, the ancient gateway to the southern Silk Road, has long been a magnet for visitors who love food. Rabbit head at Jinli Old Street. Mike Peters / China Daily
The array of dishes was a reminder of the flavorings and seasoning that come from all over the province: soy sauce from Zhongba, Baoning cooking vinegar from Langzhong, special vinegar from Sanhui, fermented soy beans from Tongchuan, hot pickled mustard tubers from Fuling, chili sauce from Chongqing, thick, broad-bean sauce from Pixian, and well salt from Zigong.
It was also a reminder of the laid-back lifestyle of the region: This was not a meal to be eaten quickly, but to savor with a few friends (and a few beers).
The teahouse and restaurant is a monument to taking it slow. You can enjoy a leisurely meal while watching a Sichuan Opera show, which includes the famous face-changing performance, and also stroll the art gallery with beautiful statuary, ceramics and artifacts such as rabbit snares that go back to the Song Dynasty (960-1279) and even earlier. A hallway lined with watercolors of local life scenes from the 1960s is particularly engaging.
The teahouse is housed in a modern building, but the intricate wood carvings, artwork, lighting and flooring all reflect traditional Sichuan teahouse design.
If you go
Jinli Old Street
No 231 Wuhou Hall Street (to the east of Wuhou Hall),
Shunxing Ancient Teahouse
Shawan Road, 3/F 258 International Exhibition Center. 028-8769-3202.
Related:
Sharing the best wines, and the cost