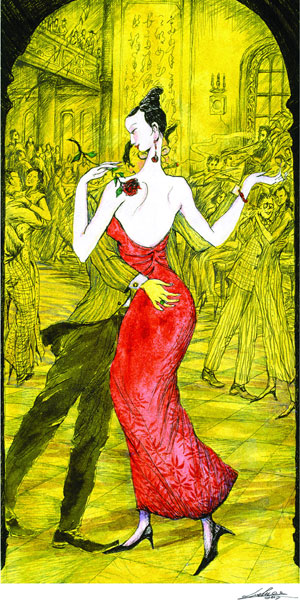 [Photo provided to China Daily]
Bai tells me that since resurrecting the dances, the event has become something of a magnet for people who want to relive the glamour of old Shanghai. She says some visitors are memorable - such as the couple in their 80s who had traveled to Shanghai, the city of their birth, from their current home in the United States.
The man and woman had left Shanghai for Taiwan, and later the US, after 1949, but in their youth, had attended the afternoon tea dances at what was then the Cathay Hotel. Walking into the Fairmont Peace Hotel, they were so thrilled to have stepped back in time, to experience their lost youth, that they refused to leave the dance floor. The staff even started to worry for their safety.
The Fairmont Peace Hotel was built by British-Iraqi millionaire Victor Sassoon and first opened its doors in 1929 as the Cathay Hotel.
The hotel is a treasure trove for history buffs. Much of the furniture is original and is perfectly preserved from the 1920s. The detailing in the ceilings features dachshunds - Sassoon's beloved pets. Even the building itself is in the shape of the Chinese character feng, meaning lavish.
The Cathay's heyday ended in 1941 with the Japanese occupation.
In 1952, the Shanghai government turned the building into an office and in 1956 the hotel started to once again welcome international guests and has hosted a variety of world leaders and celebrities, from the former Australian prime minister Gough Whitlam to boxer Muhammad Ali.
Bai takes me on a tour, first around the small museum with photos and artifacts from the 1930s and then up the stairs to see a few of the nine "nation" suites - rooms decorated in the style of what Sassoon decided were the world's most powerful nations at the time.
We take a trip through India, Japan and Great Britain, with each room representing ideas about these nations formed 80 years ago.
Eventually, we walk up to the balcony overlooking the Bund and step out, taking in the spectacular view, staring out to the futuristic Lujiazui area, standing on history.