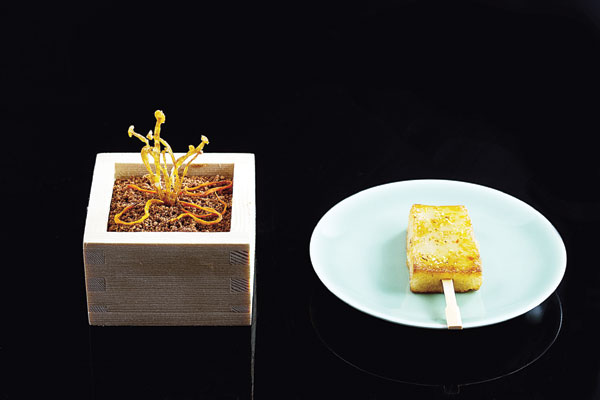 Visual treat: The flower pot dessert is made from dehydrated twig-like enoki mushroom in the cocoa bean mud. It is served with rice cake resembling a popsicle. [Photo provided to Shanghai Star]
The set menu I try features eight courses and a glass of apple vinegar in between as a palate cleanser.
The starter is called "The Garden". With potato mousse as its base, it features fragrant vegetables and truffles and has a smooth yet crisp texture from the wheat bread. The soup, Lotus Mushroom, takes this special kind of mushroom produced in China as its core ingredient and uses a stew of vegetables and Longjing green tea.
Among the five main courses, the white king oyster mushroom may be the most "meaty", but you can still pick all the ingredients at a glance. Inspired by Peking roasted duck, chef Lu pairs the juicy oyster mushroom with cucumber slices and sweet soy bean paste, and wraps them altogether in a pancake, just like Peking duck rolls.
The dessert somehow echoes with the starter. Beautifully named and presented as a "flower pot", it plants the dehydrated twig-like enoki mushroom in the smashed coco bean mud, and serves them in a square wooden box. It's a visual pleasure, while the rice cake, served on a stick like a popsicle on the side, is truly a treat for the tongue and teeth. The homemade cake has been slightly fried, putting on a crispy, sugared and golden skin while the inside remaining soft, glutinous and warm.
Chinese poems say that the best rice cake should be white as snow, but it also stick to the teeth as thick snow does to the feet, making every bite a difficult but enjoyable challenge.
IF YOU GO
Fu and Hui
Address: 1037 Yuyuan Road, near Jiangsu Road, Changning district 
Tel: 021-3980-9188 Reservation is a must. There is no a la carte but only set menu on offer, which starts from 380 yuan per person.