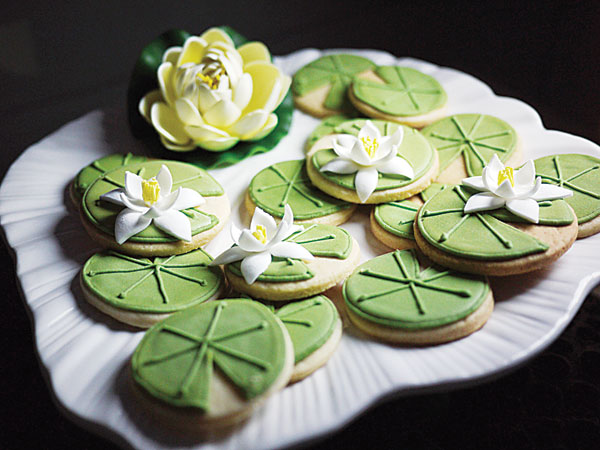 Cookie decor: Cookies that look like pretty lilypads, and a dessert table at a wedding reception. [Photo provided to Shanghai Star]
Not long after Chen's first creation, a friend invited her to make a whole dessert table at a fancy wedding. After that, she was bombarded with orders for wedding cakes and started a company in 2010.
"The starting point of this interest-turned-business is love. My husband purchased these tools and book because he wanted to make me lovely cakes," she says.
"It's all about love and emotions when people develop relationships with one another and I want to help them express themselves with dessert." She listens to every couple's love story and chats with them to determine how the dessert table will fit the theme, color and setting of the wedding party.
She later expanded her business to customized dessert and Western-style food for activities hosted by high-end brands. She was once invited to design the menu for a cosmetic brand's media luncheon, featuring its latest soybean series.
"The main course I created was deep-stewed beef cheeks with tender mouthfeel and the dessert looked like a bar of soap that resembles the brand's star product," she says.
For the Christmas season, Chen will set up an interactive zone at Lifehub at Jinqiao where people can make their own lollipops.
"It's fun and easy for everyone. People will remember doing this at Christmas and it will become a beautiful memory," she says.