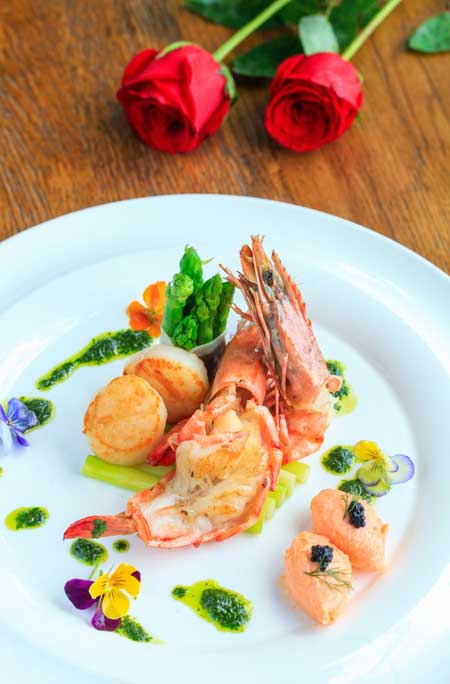 Seafood is also highly recommended in Flamme restaurant, in addition to its signature steak. [Photo provided to China Daily]
French restaurants in the capital are always popular with those who want to impress on a date. Some of them have also prepared for the occasion. Jaan at the Raffles Beijing Hotel, one of the city's best French restaurants, is offering a French seafood feast for diners.
Executive chef Riaan Burger has designed a set menu offering French oyster, slow-braised abalone with ginseng, tuna and a dessert of raspberry with lychee and white chocolate.
"I have based the menu on aphrodisiac ingredients or elements that naturally stimulate endorphins," says the chef from South Africa.
Ginseng, a traditional Chinese herbal ingredient, is believed to vitalize people. The dessert has lychee, a typical Chinese fruit. The chef uses the lychee to balance the flavors of the raspberry and rose. It is used in two ways - fresh and to flavor cream.
Burger says Jaan restaurant has previously prepared a special menu for Qixi and it will continue to do so.
"It has proved very successful from past experience," he says. "The menu is designed to cater to local clientele and their known preferences. But from experience we have learned many expatriates also attend this event."
Matrix at Crowne Plaza Beijing Lido offers an international buffet on Qixi, with some special highlights.