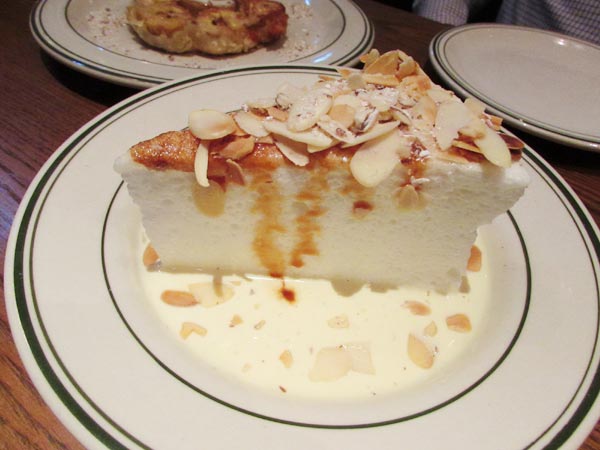 Floating Island is a signature dessert served at the Le Port Parfume restaurant in Hong Kong. Donna Mah / China Daily
Kau U Fong was a much quieter street before.
Times have changed and there a dining scene is blooming on this tiny L-shaped street. Located on one end is the Lan Kwai Fong Hotel, which is a bit confusing as it's not actually in Lan Kwai Fong; on the other end, up some stone steps is the famous Kau Kee beef noodle shop with its long lines and the eclectic Homeless furniture store. This area has a great old-Hong Kong vibe as well as being an "up-and-coming" area, and this is where the French bistro Le Port Parfume (French for "fragrant harbor") can be found.
At Le Port Parfume they serve produce sourced from local fish and vegetable markets. Our meal began with the clams a la plancha - small clams cooked quickly with white wine and garlic. They were sweet, juicy and plump. A sprinkling of freshly chopped parsley was added just before serving - though sometimes basil is also used. The bistro makes changes to the menu depending on what is fresh and available on the day.
Le Port Parfume is currently serving fresh mushrooms from Yunnan until the end of July. On the evening we dined there, we were served seasonal ceps with a 60 C egg; scrambled eggs and morels; black truffle tart, Alsatian bacon and caramelized onion; and black truffle and oxtail bouillon.
The combination of earthy mushrooms and eggs is a favorite of mine. The ceps, which need to be cooked for longer as they are on the tough side, were delicious and coated with the runny Japanese egg yolk. It was served with a bit of shichimi togarashi. The Japanese seven-spice pepper mix added just the right zing to the dish.
Instead of black truffles, the scrambled eggs were made with morels, and served a bit runny. The dish was creamy and buttery with some "crunch" from the morels. The soft eggs were served on a thin piece of crisp toast, creating wonderful textures in this dish.