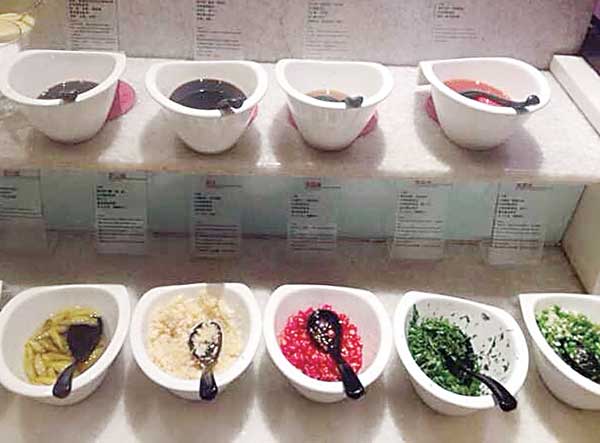 SAUCY FAVORITES: Before you start cooking in the hotpot, pay a visit to the condiments buffet and make up your own bowls of dipping sauces from the wide selection of sauces and spices. [Photo by Judith Huang/For Shanghai Star]
The Dolar Shop has a special meatball platter that features three varieties – fish meatballs, prawn meatballs and a squid meatball. There is quite a ritual with the service.
A young lady will come around to the table once all the hotpots are boiling. She will then meticulously shape the meatballs with a spoon and divide them precisely among the diners. I imagine she must be really good at mental math.
While the hotpot meal was very much a communal effort in the past, we like that the soup bases at Dolar Shop come in individual pots set over a burner. It's a much healthier way to eat, and diners can season the soup to their own tastes.
Still, there is a natural logic to eating hotpot. Wait for the soup to come to a rolling boil before dropping in the red meat, especially if you like your pork or beef well cooked.
After that, seafood like fish, squid, prawns or shellfish can go in next. Vegetables are normally dropped into the broth after the meats are done, so the rich soup infused with all the meat and seafood goodness will flavor the blander greens.
The bean curd and puffs go in last, so they can fully absorb the sweetness of the broth.
Little touches at Dolar Shop make eating there memorable. For example, ladies with long tresses are offered a velour scrunchy to tie up their hair so it does not get in the way. Diners with the ubiquitous cell phones are given a plastic bag to keep their mobiles clean on the dining table.
A hotpot evening is an unhurried, relaxing experience where good friends and family can sit down and natter over a nourishing, healthy meal where vegetables are often the most attractive feature.
In summer, it may also help you break out in a good sweat, which is a nice way to unclog the pores, yes?
IF YOU GO
Dolar Shop Hotpot Restaurant 
303. 3/F, 569 Jinling Road East, Huitong Building
021-6386-9977
There are many other outlets in both Pudong and Puxi.
Average expenditure at Dolar Shop is about 100 yuan per person.