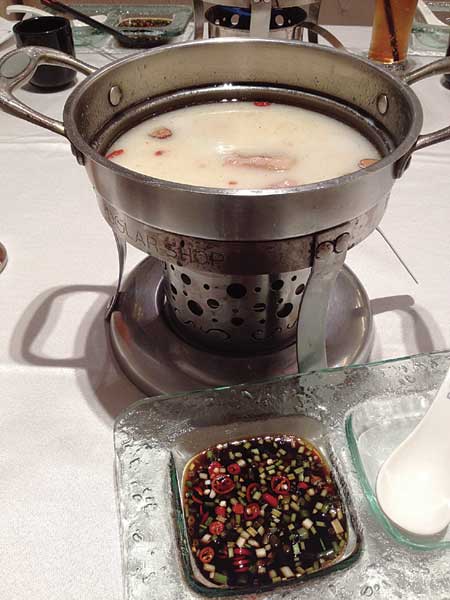 SAUCY FAVORITES: Before you start cooking in the hotpot, pay a visit to the condiments buffet and make up your own bowls of dipping sauces from the wide selection of sauces and spices. [Photo by Judith Huang/For Shanghai Star]
For everyday dining, and a long leisurely evening meal that soothes away the day's stress and cares, we like the whimsically named Dolar Shop – a mid-budget range eatery with clean facilities and a good choice of orders.
There are quite a few outlets around town and a search on popular food review sites will locate the ones nearest you. For us, it was the shop near the cross-section of Jinling and Xizang Roads, off the Huaihai Road middle section.
Dolar Shop has nothing to do with the American currency, and is more a purposely misspelt homophonic term referring to its Hongkong/Macanese origins of dipping into a rich broth served in hotpots.
Our favorite soup base is a milky white chicken, tripe and gingko nut concoction that is a delight to drink on its own. Service at the Dolar Shop outlets is generally fast and efficient, with all the well-plated ingredients arriving quickly at the table.
The seafood platter is especially attractive, with an assortment of shellfish, octopus and squid piled on top of packed ice. In season, there are even two to three fat oysters. Before you start, though, make a trip to the condiments table where you can put together your own dipping sauce with sesame or peanut pastes, more chili varieties than you can imagine and every sauce you can find in a well-stocked Chinese kitchen.
Spring onions, chopped fresh cilantro and minced garlic add that touch of pungency and herbal fragrance. The secret to a good dipping sauce is that it should complement, not overpower the sweetness of the natural ingredients.
There are lots of green vegetables to choose from at Dolar Shop, and a mixed mushroom platter for those who cannot make up their minds. We like the bean curd platter as well, with an assortment of snowy white fresh bean curd, bean curd puffs and golden pieces of fried bean curd skin that soak up the tasty broth very effectively.