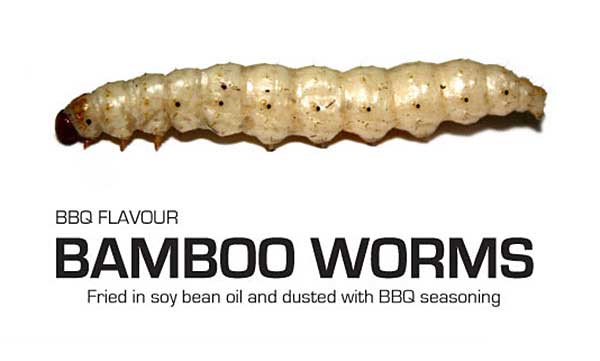 The guide smiled, putting the beast back in the cooler and pulling out a small vial of clear liquid.

"Try it this way," he said. "The essence is distilled as a flavoring, and you can add it to the dipping sauce for your egg rolls."
Not likely, I thought, as the innocent-looking tube was passed around.
I watched as my new French friends took a whiff. Their eyes widened.
"It's like flowers!" the bride exclaimed as her husband nodded. Obviously they'd been drinking a lot of champagne the night before. I took a tentative sniff. Zowie!
"It's like Chanel No 5 or something," I said. "THIS came out of that bug?"
Apparently so, and it gave a nice floral edge to the dipping sauce. We all agreed it was quite yummy, though there were still no takers for the crunchy original.
It's easier to open wide for a water bug with eau de parfum, or ants that are chocolate-covered, than to scoop up fried bamboo worms at a Yunnan eatery. More often, such creatures are bait for dares among tourists: Scorpion on a stick, anyone?
But insects are plentiful and full of protein in a world that increasingly faces food shortages. Some of the world's top chefs are intrigued by the possibilities: Rene Redzepi, who runs the kitchen at Copenhagen's famous NOMA restaurant, recently touted a sauce made from fermented grasshoppers. Hmmm.