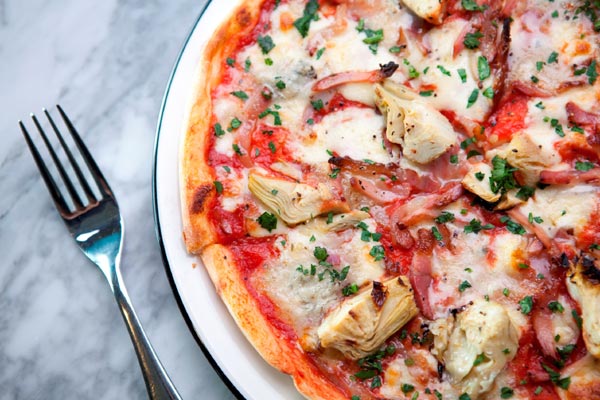 Romolo e Remo classic pizza is a popular choice served at the newly opened restaurant in Beijing. Photo provided to China Daily
We liked the slightly sweet tang of the passata, which we enjoyed on the calabreze pizza on our first visit. The rectangular base was topped with Italian sausage, a spicier sausage spiked with red chilies, jalapenos, red and yellow bell peppers, baby mozarella, arugula, pesto oregano and grana padano.
If you book a private party, the chefs will teach you how to make this one, including shaping and throwing your own dough. We tried this and must confess our pizza looked like it had gone three rounds with the late American boxer Rocky Graziano, but it tasted really good.
We can also vouch for the Parma pizza (the ham! the ham!) and the Milano pizza, which had mushroom sauce instead of tomato and generous scatterings of Italian sausage chunks and red onions.
Salads are hefty enough to share as a side dish before the pizza arrives. The crowd-pleaser at our table was the "superfood salad", a fresh mix of baby spinach and seasonal greens, roasted butternut squash, beetroot, light baby mozarella, avocado, pine kernels, cucumber, lentils and fresh basil dressed with a splash of balsamic syrup. Healthy, rich in nutrients and low in calories, it costs 115 yuan ($18.53).
There are about a dozen more pizzas on offer, a list of pastas about that long and a small but smartly chosen wine list made for hearty, casual meals with friends. If you are feeling bubbly, the house prosecco is nice enough, but the slightly honeyed Moscato D'Asti makes pizza lovers sing.
Besides the new Beijing outlet, Pizza Express already runs 12 restaurants in Hong Kong and nine in Shanghai. (It has 436 in Britain.) John Zhao, CEO of the new owners at Hony Capital, says that "with Pizza Express, we have the opportunity to leverage our local expertise to accelerate its growth in the Chinese market".
Maybe that means there will be a Pizza Express even closer to where I live.