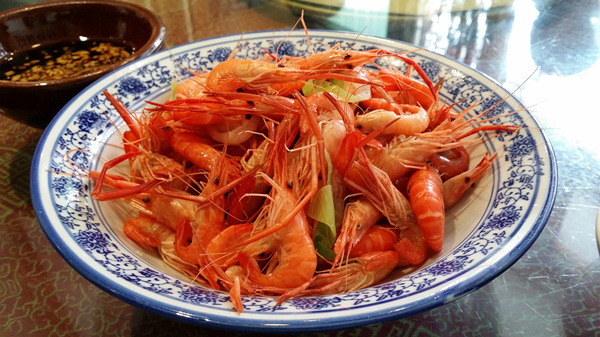 Boiled shrimp. [Photo by Ye Jun/China Daily]
Xuzhou is an ancient capital with thousands of years of history.
Pengzu, the area's founding father in folklore, is considered to be the first gourmet in Chinese history. It was said he made a good bowl of pheasant soup for the emperor. The emperor was so pleased he gave Pengzu the area as a fiefdom. Legend says he was adept in Tao and lived to be more than 800 years old.
Perhaps that's why Xuzhou has some unique gourmet traditions.
One is a lamb-eating festival in the hottest period of summer. That is different from most other places in China, where lamb is consumed mostly in cold seasons. A bowl of lamb soup with cabbage is always a good choice in restaurants in Xuzhou.
Spicy eel and egg soup is another specialty in the city. It is usually served with seared pork or vegetable buns in restaurants for breakfast. One of these is Lianglaifeng, a restaurant that was founded in 1912.
The soup is warming, with black pepper in it. When I tried it at Lianglaifeng's Wentingjie branch, the amount of pepper was comfortable. Moreover, there is a celery bun, which doesn't taste as oily as traditional versions I've had before. Apparently the cuisine is getting healthier.
If you go:
Paomatang, Lu's Family Restaurant, Yinzhuang branch
50 meters south of Yinzhuangqiao, Yinzhuang Lu (Road), Gulou district, Xuzhou, Jiangsu province.
0516-8756-7111.
Average spending per head: 60 yuan ($10).
Recommended: Boiled Shrimp, Braised Small Catfish, Deep-fried Pumpkin Flowers.
Lianglaifeng, Wenting Jie (Street) branch
8 Wenting Jie (street), Quanshan district, Xuzhou, Jiangsu province.
0516-8390-7999.
Average spending per head: 30 yuan.
Recommended: Spicy Eel and Egg Soup, Seared Buns.