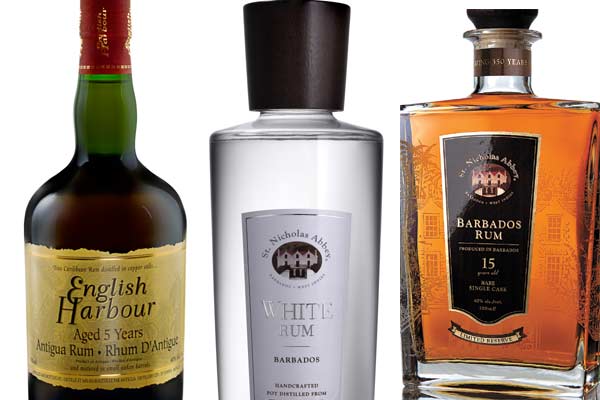 English Harbour, White Rum and Barbados Rum (from left to right) [Photos/China Daily]
Rums do not only pick up their flavors from barrels but also from the soil, type of sugar cane used, the surrounding vegetation and other natural factors, such as the salt and moisture from sand and sea air. This makes them very similar to wines whose tastes are defined by the environment of their "terroirs". Rums from Antigua, the former Spanish and English colony, would have hints of vanilla and spice. Those from Barbados would have hints of orange peel and coffee.
All rums are distilled from sugar cane juice, syrup or molasses, which is merely an excess of sugar production.
Premium rums are expensive because the distilleries use only sugar cane juice and are very careful with handling plants when harvesting (cutting far enough from the soil) to extraction. They are also completely vertical (meaning they own and run the sugar plantation down to the production of the finished, bottled product).
After extracting juice from sugar canes, the liquid is fermented with yeast from one to 10 days. To concentrate the alcohol, the fermented liquid is then distilled.
Premium distilleries continue to use pot stills (a metal kettle with a long spout) to this day while modern mass producers use steel columns. Aging is done in oak casks anywhere from one to 30 years.
Although aging is not required, it adds to the smoothness of the spirit. Rum gets darker as it ages because it absorbs the flavors and colors of the casks. Caramel is sometimes added for color consistency but not as a sweetener as is commonly thought.
Carey and Stuart differ in opinion on which element of rum production is most important. For Carey, aging is the most important step and for Stuart, it is the type of yeast used in fermentation.
Blending occurs after aging and before bottling. Most rums are blended to establish a distinct taste and consistency but once it is bottled, there is little that can change its flavor and color.