Foo fighters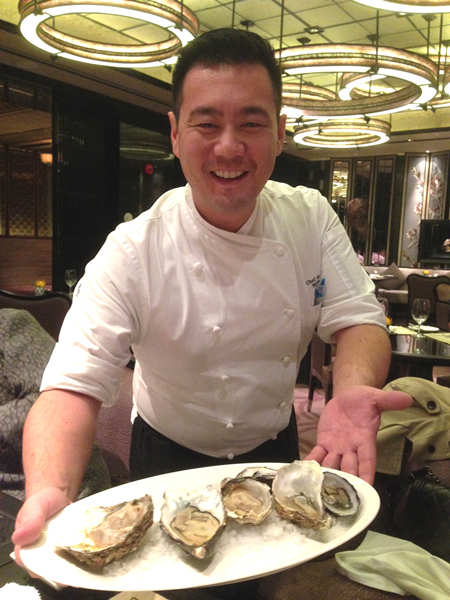 Brian Chan, Foo's chef de cuisine. [Photo by Pauline D. Loh/China Daily]
But a special treat is that perfect French Belon, simply served with that classic dressing of shallots in vinegar. It slides down the throat like silk, and we are almost tempted to purr with pleasure.
Diners will also appreciate another offering at the weekend buffet, and that is Chan's delicious cured salmon. He does them two ways.
One platter of salmon is spiced with Sichuan peppercorns and guaranteed to kick the palate into action, and bring tears to the eyes.
The other, which I liked better, is a beautifully red spread that is pickled with beetroot. Besides the pretty magenta hue that colors the fish, the faintly earthy and sweet flavor of the beetroot lifts it beyond common cured salmon.
In the kitchen are the hot stations, where you can order your burger either medium-rare or well-done and choose side dishes that include freshly made onion rings. This is true-blue American and brings back memories of drive-in diners after school.
There is also an excellent prime rib waiting, with gravy and mash and all the vegetables and salad that should go along.
A special mention must be made of the cakes and desserts at Foo.
So often we get mousse-filled confections that leave the palate clotted with cream and little else. At Foo, however, young pastry chef Owen Xiao pays attention to the cakes and jellies. Real cakes, and real jellies.
Now that's what I call sweet endings.