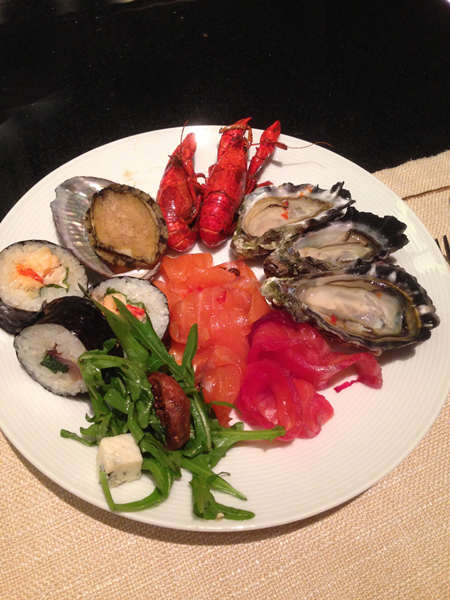 The buffet spread is a visual delight of bright colors and varied flavors. [Photo by Pauline D. Loh/China Daily]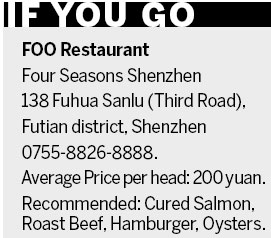 Shenzhen is holding its own in the culinary stakes, with bright young chefs contributing to raising this southern city's epicurean standards. Pauline D. Loh samples the buffet line.
We were there for afternoon tea, but stayed for dinner. As we were finishing off our scones and clotted cream, a figure in chef's white was bustling around carefully filling up the buffet stations.
It is an unusual buffet, we were told, that would be extended into the kitchens.
The fact that diners could wander into the kitchen at will was a tempting prospect that spurred both personal and professional curiosity. I asked if we could stay for dinner at Foo, the Shenzhen Four Seasons' excellent all-day dining Western restaurant.
We were introduced to Brian Chan, Foo's chef de cuisine, a bright, breezy young Chinese-American with a stellar culinary pedigree that includes a stint with Joel Robuchon.
Chan is a great one for attention to details and seemed delighted when I singled out a bowl of perfectly cooked hard-boiled eggs at the salad station.
"I am so glad you noticed that! So many people don't know how to cook eggs, and they have this dark blue ring of sulphur around the yolks."
Chan's egg yolks are a lovely bright yellow, still soft in the middle and they are untainted by any darkness around the rim.
His buffet spread is a visual delight of bright colors and varied flavors, starting with a seafood station that is a cornucopia of yabbies, prawns, conch, whelks and abalones. There are also oysters from Coffin Bay in Australia and also from New Zealand.