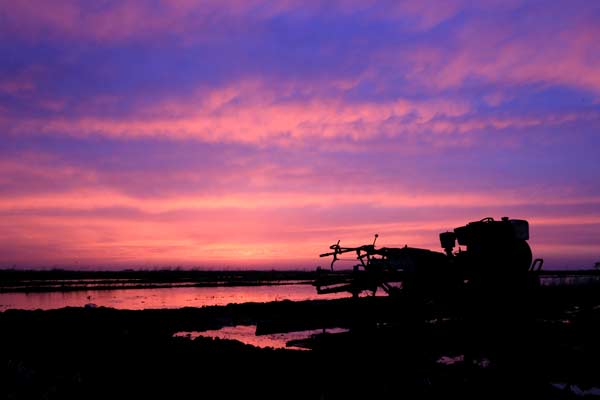 The paddy field at Xing and Li's Bashangtian Organic Farm in Qiqihar, Helongjiang province. [Photo by Xing Jianxin/for China Daily]
They were delighted to discover the Beijing Country Fair community in 2012 and immediately felt at home. "We were really happy to see we are not alone in promoting healthy and safe food."
Even at the fair, the rice farmers had to slowly educate consumers who complained that their rice cost too much. Some customers told them that organic rice was sold much cheaper online.
"Some said the same kind of rice is only 8 yuan on Taobao," Xing says. "But I checked the online shop myself and they were selling much more rice than they could possibly harvest from their land."
Not every customer has enough knowledge or experience to see through the false advertising. Nor do they know that some rice may have artificial fragrances added.
"We realized we cannot control what others do in the open market. The only thing we can do is to do the right thing ourselves," Li says.
Every spring, they abandon their families in the city and rush back to the fields, plowing, sowing, irrigating and weeding. When autumn comes, they proudly bring their rice back to the city to sell.
The most rewarding moments, they say, is when they see young mothers coming back to buy more rice for their babies.
"They eat it when they are pregnant and now they believe it is safe and healthy for their families. It is their trust that keeps us going."