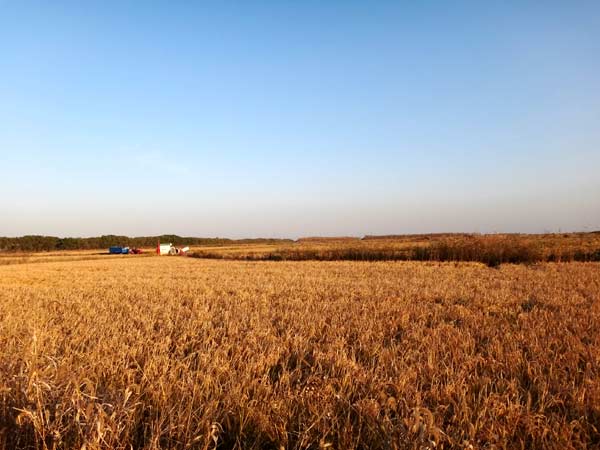 The paddy field at Xing and Li's Bashangtian Organic Farm in Qiqihar, Helongjiang province. [Photo by Xing Jianxin/for China Daily]
The two kindred spirits decided to combine resources and devote their time to producing honest, organic rice. They started the Bashangtian Organic Farm.
"Bashangtian" translates to "eight thousand square meters of paddy" and is their field of dreams, a place where they can grow organic crops. They also created a wide strip of land that buffers their land and surrounding fields.
"This is the price you have to pay," Xing says. "Without this strip, pesticides from neighboring fields will contaminate our crops."
They also had to pay a higher price to the owner of the land so he would renew their lease each year, even though the land had to lie fallow in the first years.
Xing and Li also took another risk. They decided to grow the best heirloom rice, called daohuaxiang, or "the fragrance of rice flowers".
Li explains that this variety of rice has the longest growing period of about 140 to 150 days. Normally, it only takes 120 days to harvest a crop of rice.
"In Northeast China, the weather shifts dramatically in October. Sometimes it only takes seven days to change from early autumn to winter. If your crops are still not mature, they may get snowed over and get killed by frost."
They speak from experience. In 2012, the first snow arrived a month earlier, and their crop was destroyed. "We became the joke of the village," Li says. "Most people don't understand why we spend so much time and money doing something risky and that may not be necessarily profitable."
The risks are high, but their pursuit for perfection paid off when their rice passed organic certification in 2011 and attracted high offers from rice merchants.
"A major buyer offered us 75 yuan ($12.40) per kilogram," Xing says. "They wanted to package it for the high-end market, as corporate gifts. But we turned them down. Profitable as it may have been, it is not what we want."
What Xing and Li really want is to gradually influence farmers around them into producing good, safe food for everyday consumers.