Tale of Xi's dumplings draws crowd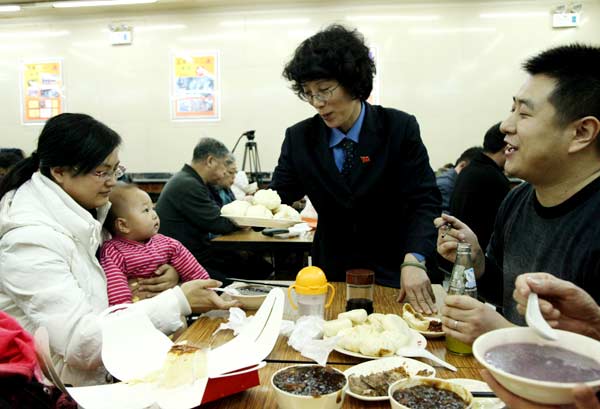 The manager of Qing Feng Steamed Dumpling Shop in Beijing serves customers on Monday. People flocked to the shop after President Xi Jinping dined there on Saturday. [Photo by Cheng Liang / for China Daily]
"A president's set meal," said Sun Zhengcai as he waited to be served at the Qing Feng Steamed Dumpling Shop in Beijing's Xicheng district.
Just two days earlier, on Saturday, President Xi Jinping had dropped in unexpectedly for lunch, and fame of his visit had spread far and wide.
Sun, a 33-year-old ex-soldier, could have been home on Monday if he had taken a train from Weifang, Shandong province, where he had been on a business trip, straight to Liaoning province. But he chose to change trains in Beijing with his five boxes of green turnips, making the trip six hours longer and more than 200 yuan ($33) more expensive.
Sun spent 50 yuan to store his 25 kg of turnips at the station and arrived at the shop at about noon to join a line more than 50 meters long.
After waiting for nearly half an hour, he took his "president's meal" and went to the table at which Xi had sat - where Sun joined another line to wait for a chance to sit in Xi's seat and have his photo taken there.
Sun then quickly moved to another table because of the large number of people who were waiting their turn to be photographed at Xi's table.
The first thing Sun did, however, was not to start enjoying the dumpling stuffed with pork and green onions, but to upload to WeChat, a mobile social networking app, the photo he had asked another customer to take of him.
"The greatest honor I had during my stay in Beijing was to have a set meal of the president," he said in the photo.
After getting one more photo of himself in front of the shop, Sun hurried back to the train station.