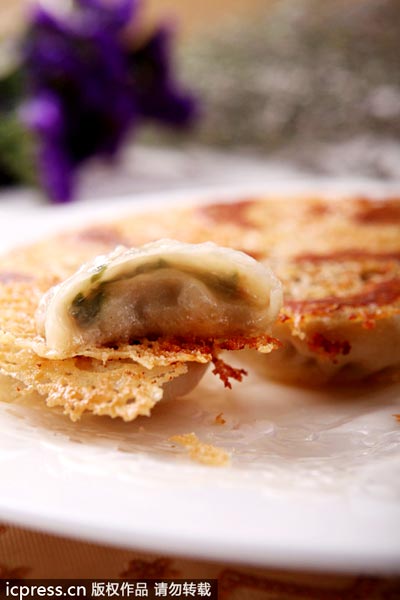 Made with fresh wrappers and eaten straight out of the wok or frying pan, the perfect fried dumpling or guotie should have a golden brown, ultra-crisp fried bottom, with a skin that's springy and chewy, but never tough or doughy. [Photo/icpress]
The Chinese divides the whole year into 24 solar terms according to climate changes. Winter solstice, "the arrival of winter", is one, and it is the earliest recorded. It usually coincides with Dec 21 to 23 in the Gregorian calendar and is the shortest day of the year.
In the Chinese concept of yin and yang and the five elements, winter solstice is especially critical to maintaining yang qi, the masculine strength which keeps the body warm in winter. In the north, winter is all about fending off cold, and dumplings are eaten to dispel the chills and warm the body. More
But these small dough bags with fillings have varied names and styles in different places.