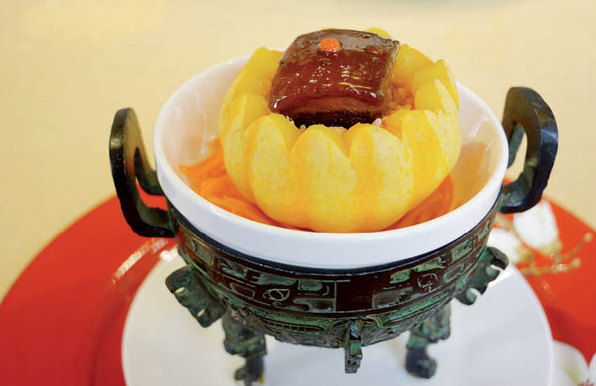 Brown-braised pork is a signature dish of Cheng Fu Yan restaurant. It's cooked in a way late leader Chairman Mao Zedong was fond of. Photos by Ye Jun / China Daily
The legacy of the late chairman lives on in restaurants founded by his favorite chef, Ye Jun discovers.
History is in the food at Cheng Fu Yan, literally translated as "Cheng's official banquet". Few people would fail to notice the importance of its location, as they arrive at No 38 Nanchangjie. Zhongnanhai, the central government complex, is just across the street. It is a small courtyard house, with just two bungalows and a two-floor building. There are only seats for a maximum of 24 guests. The staff members explain it is not easy to have a two-floor building opposite Zhongnanhai, because of strict security in the area. Opened in 2009, the restaurant is the final achievement of Cheng Ruming (1926-2012), Chairman Mao Zedong's executive chef for 20 years.
Cheng also headed the kitchen for state leaders after Mao Zedong, including Deng Xiaoping and Jiang Zeming. But the menu highlights the Mao era, and quite a few dishes mark important historical moments in China.
"Marshal's prawn" is a dish Cheng prepared in 1961, when World War II British field marshal Bernard Law Montgomery met Mao in Wuhan, Hubei province. Cheng wrapped Bohai sea prawn with cheese and bread crumbs for deep-frying, turning out a dish that is crispy at the skin, tender inside and full of milky aroma.
Another dish he prepared is famous in China because of Mao's poem about the ingredient: Wuchang's fish. Cheng braised Wuchang bream with salt, yellow rice wine and basil. Mao's poetic praise for the fish was later compiled into the nation's elementary school textbook.
Other dishes also help people to have a better understanding of Mao. Brown-braised pork is a delicacy popular in Hunan province, hometown of Mao. But unlike ordinary brown-braised pork, the version Mao ate was cooked without soy sauce.
Shortly after Cheng came to Zhongnanhai as Mao's chef in 1956, he prepared brown-braised pork, which was returned to the kitchen untouched, twice. Terrified this could mean the end of his service, Cheng sought a chance to ask Mao the reason directly. It turned out that in Mao's boyhood, his family ran a soy-sauce workshop, and he noticed "small lives" in the fermentation jars. So he stopped eating dishes with soy sauce.
After that, Cheng never used soy sauce in preparing the famous pork. Instead, he fried sugar to brown to give the pork its color. Cheng Fu Yan's second branch near Yuquan Mountain in western Beijing imitated the decoration of Zhongnanhai in Mao's time. The sofas are a bit harder than today's sofas, but very comfortable to sit on. The walls are decorated with Mao's portrait and pictures of him meeting Montgomery.