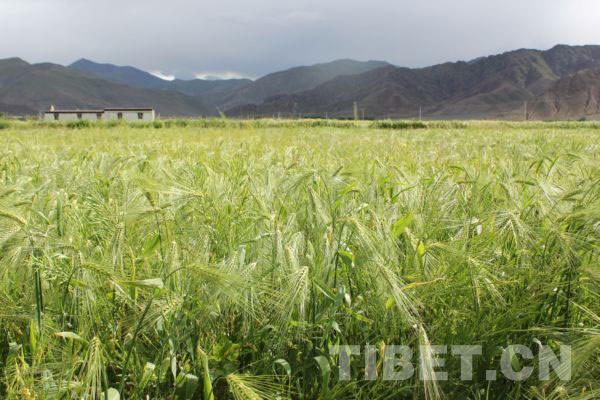 The Shigatse Prefecture, renowned as the "granary of Tibet", has celebrated its highland barley harvest by the side of Nyangchu River in the fall of 2013. [Photo/China Tibet Online]
Compared to the manual harvest in the past, now the agricultural machinery has become the main force in the rush-harvest. According to preliminary statistics, in 2013 Tibet has completed 1.7 million mus of harvest area in the way of mechanization, with an increase of 10,000 mus. The level of mechanization accounts for 45.7 percent of the total.
In order to achieve a rapid growth in the output of food production, Tibet has planted 100,000 mus of "Zangqing 2000" highland barley in the demonstration farmlands which spread over 5 cities and 28 counties in 2013. The "Zangqing 2000" is a new variety investigated by numerous experts in Tibet, and its acre yield is 25kg higher than the traditional variety "Zangqing 320".
In the early 13th Five-Year Plan (2016-2020) Tibet plans to preliminary built a grain business network with reasonable arrangement, normative operation, comprehensive function, and high level of network and standard, in purpose of improving the quality of food consumption, maintaining the food safety and guarantee people's health.