Let's get crabby!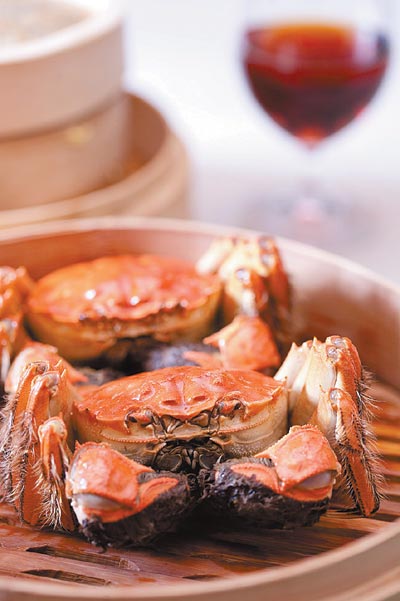 Steamed crabs are served with red wine at Park Hyatt Beijing. Below: Shanghai Lao Fandian (Old Shanghai Restaurant) started serving dazhaxie or mitten crab earlier this week.Photos provided to China Daily
Elsewhere, Shanghai Lao Fandian (Old Shanghai Restaurant) started to serve dazhaxie or mitten crab on Sep 25, directly from its own farming operation. The mitten crab is best known in China for its fine texture and clear, slightly sweet aftertaste.
Chinese gourmets believe female lake crabs are best in the ninth lunar month, while male crabs are best in the 10th. These occur about half a month later than they do on the solar calendar.
Zhang Jinzong, the general manager, says the crabs will be available until the end of the year. The crabs have a shiny dark-green shell, golden hair on their claws, and clear white bellies.
The restaurant says its mitten crab raised in Yangcheng Lake is "green food" — healthy and sustainable.
Xin Guoxiang, China's national-level cuisine master, is responsible for steaming the crustacean, which is then paired with ginger slices and Zhengjiang's fragrant vinegar, along with a cup of warm yellow rice wine.
Old Shanghai Restaurant was established in 1875, making it one of the city's oldest centers of cuisine. It's Beijing branch serves authentic Shanghai style foods in an ambience rich with Chinese culture.
To get a taste of more Western-style crab dishes, visit Park Hyatt Beijing, which has recently combined traditional and contemporary styles for a special crab event. On Sep 21, the Gallery turned into a fresh seafood market with an open kitchen. Executive chef Aw Yong presented Tianjin purple crabs slowly cooked in coconut shells with cabbage, turnips, clams and white fish.
In the same spirit, he's paired iced Chaozhou red flower crabs with ginger puree and vinegar. Japanese baked snow crabs are steamed with champagne. There were many more variations, such as French stone crab, blue flower crab and Suzhou hairy crab.
The hotel's sommelier Mei Li recommends wines for each of the dishes, ranging from cocktails to yellow wine to brandy. The hotel serves these crab dishes paired with wine on demand.
For a broader range of seafood, check out Sui Yuan Chinese Restaurant in Doubletree by Hilton Beijing. Until the end of October, the restaurant presents a seafood menu featuring 18 varieties of seafood. Some of these are abalone, clam, scallop, Boston lobster, shrimp and several kinds of fishes — and of course, crabs.
Sui Yuan's chefs will be steaming, braising, frying and baking, with different sauces, to present seafood that is not just fresh but also tasty. Many can be prepared a la minute.
Last but not least, Beijing's fish markets are full of fresh river and sea crabs at this time. Chinese people believe in "putting autumn fat" onto yourself, to prepare for a colder season. So when in China, eat as the Chinese eat: feast on crabs!
Related:
Shanghai Lao Fandian (Old Shanghai Restaurant) started serving dazhaxie or mitten crab earlier this week.more